10 pcs Battery Adapter Set for Nokia
No results found for your request.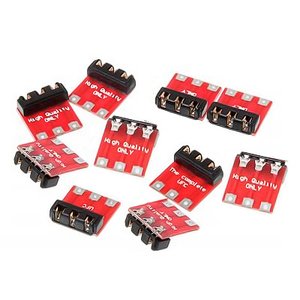 Add to comparison
Compare
Availability in stock:
HK
EU
CN
Overview
Battery Adapter allows you to flash your Nokia cell phone without power interruption.
Battery Adapter for Nokia - Features
Compatible with all Unicables, namely Unifbus, Suton, JAF Unicable, UF3G
Strong fixation with battery connectors that are stronger than usual
Simple to use battery adapter for Nokia cell phones
Compatible with all crocodile type connectors that are used by most of GSM manufacturers
Durable adapter made from high quality materials
Gold plated connector pins
High quality connector made from ABS plastic
Double sided PCB
Battery Adapter for Nokia - Support for Nokia Cell Phones and Batteries
Battery Type
Compatible Nokia cell phones
BP-6MT
Nokia 6720 classic
Nokia 6720 classic
Nokia E51
Nokia N81
Nokia N81 8GB
Nokia N82
BL-5J
Nokia 5230
Nokia 5230
Nokia 5800 XpressMusic
Nokia 5800 XpressMusic
Nokia C3-00
Nokia C3-00
Nokia N900
Nokia N900
Nokia X6
Nokia X6 16GB
Nokia X6
Nokia X6 32GB
BP-5M
Nokia 5610 XpressMusic
Nokia 5700 XpressMusic
Nokia 6110 Navigator
Nokia 6500 slide
Nokia 7390
Nokia 8600 Luna
BP-4L
Nokia 6760 slide
Nokia E52
Nokia E61i
Nokia E63
Nokia E71
Nokia E72
Nokia E90 Communicator
Nokia N97
BL-6P
Nokia 6500 classic
Nokia 7900 Crystal Prism
Nokia 7900 Prism
BL-4U
Nokia 8800 Arte
Nokia 8800 Sapphire Arte
Nokia 3120 Classic
Nokia 6600 slide
Nokia E66
Nokia 8800 Carbon Arte
Nokia 8800 Gold Arte
Nokia 8800 Gold Arte
Nokia E75
Nokia 5730 XpressMusic
Nokia 6600i slide
Nokia 6600i slide
Nokia 5530 XpressMusic
Nokia 5530 XpressMusic
Nokia 5330 Mobile TV Edition
BL-5BT
Nokia 2600 classic
Nokia 7510 Supernova
BL-5CT
Nokia 5220 XpressMusic
Nokia 6303 classic
Nokia 6303 classic
Nokia 6303i classic
Nokia 6730 classic
Nokia 6730 classic
Nokia C5-00
BL-6F
Nokia N78
Nokia N79
Nokia N95 8GB
BL-5F
Nokia 6210 Navigator
Nokia 6260 slide
Nokia 6260 slide
Nokia 6710 Navigator
Nokia 6710 Navigator
Nokia E65
Nokia N93i
Nokia N95
Nokia N96
* Due to the onrush of technology and efforts to meet every customer's demands, the supplier retains the right to change some positions in the list of cables and accessories coming together with the product. Therefore, the package content presented above is rather tentative. More details on the matter can be obtained from our sales managers.