Battery Analyzer Smart 2500mAh
No results found for your request.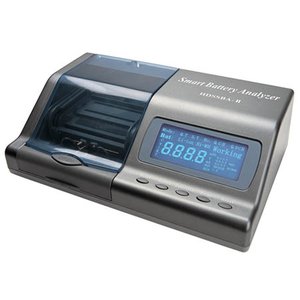 Add to comparison
Compare
Availability in stock:
HK
EU
CN
UA
Overview
The Smart Battery Analyzer with software control is more intelligent, more powerful, faster and more smart, Professional Analyzer Program included to help user to monitor whole testing process and east control the Smart Analyzer. Charging / Discharging curve is on real-time display on your computer when testing battery packs; PC Interface program to let user control the Smart Analyzer more easily; Saving and Printing test result on computer, that means user can print the testing result by any printer with his computer, No more specified printer; More fast testing speed for saving customer's time of waiting; Large LCD display for easy reading and controlling by buttons of Smart Analyzer; 4-pole probes applied for more accuracy testing result. It is great testing equipment for electronic stores, repairing centers, fleet battery users, cell phone dealers and battery sale's centers.
The Smart Battery Analyzer with professional program can test up to 7.2V Mobile phone, PDA, Digital Camera and Digital Video Camcorder battery packs; T he Smart Battery Analyzer can test Li-ion, Li-Pol, Ni-MH and Ni-Cd rechargeable battery packs, and offer 9 testing functions: Charging/Discharging, Voltage, Capacity, Resistance, Short Circuit Protection, Overcharging/ Over discharging protection, Reactivating, Quick Charge, Quick Discharge.

Specifications and Features:

· Professional Analyzer Program help user to monitor whole testing process and east control the Smart Analyzer
· Charging / Discharging curve is on real-time display on your computer when testing battery packs
· PC Interface program to let user control the Smart Analyzer more easily
·  Offer 9 testing functions: Charging/Discharging, Voltage, Capacity, Resistance, Short Circuit Protection, Over charging, Over discharging protection, Reactivating, Quick Charge, Quick Discharge
· More fast testing speed for saving customer's time of waiting
· Both PC interface control and button control available for Smart Analyzer
· Large LCD display for easy reading and controlling by buttons of Smart Analyzer
·  Saving and Printing test result on computer, user can print testing result by any printer with his computer, No more specified printer when using PC interface control
· 4-pole probes applied for more accuracy testing result
· Test up to 7.2V Mobile phone, PDA, Digital Camera and Digital Video Camcorder battery packs
· Quick Testing only need few minutes for measuring battery's voltage and internal resistance, checking if the short circuit protection circuit and over discharging circuit available in the battery pack
· Standard Testing only need few hours for measuring battery's actual capacity, Charging/Discharging, Voltage, Resistance, Short Circuit Protection, Over charging, Over discharging protection
· Reactivating a battery when a battery is left unused for a long period of time
· Auto polarity reversing program design
· Smart Battery Analyzer program and driver CD (English language) included
· AC Input range: 240V AC power
· Serial port to computer connection cable included
· AC/DC adapter included
· Professional Analyzer Program (software) functions:
· PC interface to control the Smart Battery Analyzer
·  Set testing battery type: Li-ion or Ni-MH
·  Set testing mode: Quick Testing; Standard Testing; Reactivation; Quick Charge; Quick Discharge;
·  Set testing battery voltage and capacity
·  View Charging / Discharging curve on computer's monitor
·  View testing result
·  Input client's information, inspector and remark in test report
·  Saving and Printing test report
Battery Analyzer Smart 2500mAh