Boot-Loader 2.0 Activation Code (1 year, 100 GB)
No results found for your request.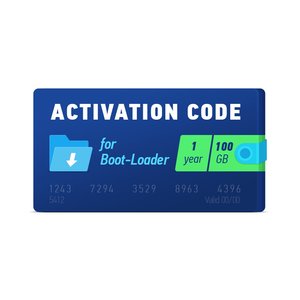 Add to comparison
Compare
Virtual product. Instructions provided by e-mail.
Purchase of this virtual product is generally processed within 2 hours after we received your payment in full. For details please read
FAQ
.
Overview
Boot-Loader 2.0 Activation Code is used to top up your Boot-Loader 2.0 device account in order to obtain access to a wide range of cell phone flash files.
Time limit: 1 year
Download volume limit: 100 GB
Boot-Loader 2.0 Activation code provides access to the following categories of mobile phone firmware *:
SmartMoto – MFW, WXCF files (for Smart-Clip)
SCout – PCF, SFL files (for SCout Dongle)
Smart-Clip2 / Sigma - MFW, SKF, WXFX files (for Smart-Clip2, Sigma Box / Sigma Key)
DreamBox – DTF, DTA files (for DreamBox)
Octopus – OCT files (for Octopus Box, Octoplus Box, Octoplus Pro Box)
Pegasus – PGS files (for Pegasus Box)
Medusa – MF files (for Medusa Box, Medusa PRO Box (free of charge))
*Boot-Loader Activation Code can be used once for any of the above mentioned devices.
The product is virtual - no packaging!
You will receive Boot-Loader Activation Code after your payment is completed. DO NOT EXPECT ANY CARD SHIPPED to you. The plastic card on the picture is only for design purposes.
Boot-Loader 2.0 - Advanced Features:
All modern browsers are supported:

Mozilla Firefox
Google Chrome
Opera
Windows/Internet Explorer
Safari

Improved download speed:

no speed and stream limits
support for low speed and unstable connections

Improved usability:

no more ActiveX logins
AJAX-driven UI

Advanced Features:

internal messaging
built-in support system
reselling system
package file downloads
quick prompts

Native (Boot-Loader) Download Manager:

fast secure downloads
easy-to-use interface
integrated work with the website using the built in browser
prioritizing queued downloads
interrupted download resumption
download categories
support for pausing and resuming downloads
support for proxy server configuration
Please provide us with your Boot-Loader username and password while placing an order.
How to top-up my account (instructions)
Detailed information on the further use of the virtual product will be sent to your email, specified during registration, when we confirm your payment and process your order.
Specifications
Activation is compatible with the following models of Boxes

DreamBox SE
Medusa
Octopus
Pegasus
Smart-Clip
Octoplus
Sigma

Activation is compatible with the following models of Dongles
Activation is compatible with the following models of Cell phones

LG
Nokia
Samsung
Siemens
Sony Ericsson
ZTE
Customers, interested in this product, also viewed