Cable Analyzer Fluke DTX-1800
No results found for your request.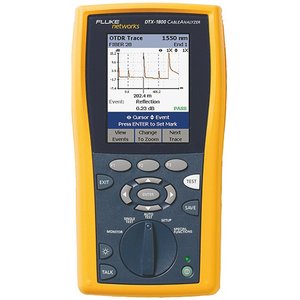 Add to comparison
Compare
Availability in stock:
HK
EU
CN
Overview
Fluke DTX-1800 is a super fast copper cables certification tester which guarantees cabling installations comply with all TIA/ISO standards. Fluke DTX-1800 significantly reduces total time to certify by improving every aspect of the testing process. This device is independently verified by ETL to meet ISO Level IV and TIA Level IIIe Accuracy requirements.
Fluke DTX-1800 Cable Analyzer Features
9-second Cat 6 cable autotest
Advanced diagnostics for fast troubleshooting of faults
Fast set up and results management
Analyzing test results and creating professional test reports with LinkWare software
Performing of Basic fiber certification with optional DTX Fiber Module
Performing of Extended fiber certification with optional DTX Compact OTDR
Fluke DTX-1800 Cable Analyzer Technical Specifications
Cable types
Shielded and unshielded Twisted Pair (STP, FTP, SSTP and UTP) LAN cabling:

TIA Category 4, 5, 5E, 6 and 6A: 100 Ω
ISO/IEC Class C and D: 100Ω and 120 Ω
ISO/ IEC Class E, F and FA: 100 Ω Cat 6A/Class EA permanent link adapters TIA Cat 3, 4, 5, 5e, 6, 6A and ISO/IEC Class C, D, E and EA permanent link
Cat 6A/Class EA channel adapters TIA Cat 3, 4, 5, 5e, 6, 6A and ISO/IEC Class C, D, E and EA channels

Test standards

TIA Category 3, 5e, 6 & 6A per ANSI/TIA-568-C.2
TIA Category 5 (1000BASE-T) per TIA TSB-95
TIA Category 6 per TIA/EIA-568B.2-1
TIA TSB-155
ISO TR 24750
ISO/IEC 11801 Class C, D, and E, Ea & F
EN 50173 Class C, D, E, EA & F
ANSI TP-PMD
IEEE 802.3 10BASE-T, 100BASE-TX, 1000BASE-T
IEEE 802.3an 10GBASE-T

Speed of autotest
Full 2-way Autotest of Category 6 Twisted-Pair links in 9 seconds
Full 2-way Autotest of Category 6A and ISO/IEC Class F links in 22 seconds
Supported tests parameters

Wire Map
Length
Propagation Delay
Delay Skew
DC Loop Resistance
Insertion Loss (Attenuation)
Return Loss (RL), RL @ Remote
NEXT, NEXT @ Remote
Attenuation-to-crosstalk Ratio (ACR-N), ACR-N @ Remote
ACR-F (ELFEXT), ACR-F @ Remote
Power Sum ACR-F (ELFEXT), PS ACR-F @ Remote
Power Sum NEXT, PS NEXT @ Remote
Power Sum ACR-N, PS ACR-N @ Remote
Power Sum Alien Near End Xtalk (PS ANEXT)
Power Sum Alien Attenuation Xtalk Ratio Far End (PS AACR-F)
ANSI TP-PMD
IEEE 802.3 10BASE-T, 100BASE-TX, 1000BASE-T
IEEE 802.3an 10GBASE-T

Display
3.7-inch LCD, 240 × 320, with backlight
Power
Li-ion battery pack, 7.4 V, 4000 mAh
Dimensions
Main unit and Smart Remote: 21.6 × 11.2 × 6 cm
Weight
1.1 kg
Fluke DTX-1800 Cable Analyzer Package Contents
DTX-1800 main unit and smart remote (1 pc.)
Cat 6A/Class EA permanent link adapters (2 pcs.)
Cat 6A/Class E Channel adapters (2 pcs.)
Headsets (2 pcs.)
AC Chargers (2 pcs.)
USB cable (1 pc.)
128MB MMC card (1 pc.)
LinkWare PC software CD (1 pc.)
User manual (1 pc.)