Car iPod/USB MOST Adapter Dension Gateway Lite for Mercedes-Benz/Porsche/Saab (GWL1MO1)
No results found for your request.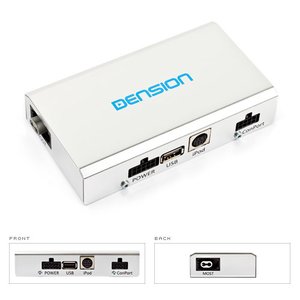 Add to comparison
Compare
Availability in stock:
HK
CN
Overview
Dension Gateway Lite is a simple to use interface for both iPod and USB integration in cars with no text support. USB/iPod Adapter Dension Gateway Lite GWL1MO1 enables music playback from a USB storage or iPod through entertainment system of your Mercedes, using the buttons of the car stereo for basic control. Fits BMW, Mercedes, Saab, Porsche cars with MOST bus.
Dension Gateway Lite emulates a CD changer and uses CD changer controls to access off-board audio sources including iPod/ iPhone and USB devices. If your car is not equipped with a CD changer, it may be necessary to have the car programmed in order to use GWL.
Dension Gateway Lite USB / iPod MOST Adapter
Features
Play iPod or USB through your car radio system
Charge your iPod while playing
Skip tracks on the iPod from radio or steering wheel controls
Access folders on your USB device using the CDC controls
Car iPod/iPhone/USB Interface Dension Gateway Lite MOST
Compatibility
Car Compatibility
Mercedes-Benz
Mercedes model
Model years
Head Unit
From
To
B Class, W245
2005
-
Audio50
C Class, W203
2004
2007
Audio20
Audio50
CL Class, C215
2005
-
Audio20
Audio50
CLK Class, W209
2005
-
Audio50
CLS Class, W219
2004
2007
Audio20
Audio50
E Class, W211
2003
2007
Audio20
Audio50
G Class, W463
2005
-
Audio20
Audio50
GL Class, X164
2005
-
Audio20
Audio50
M Class, W164
2005
-
Audio20
Audio50
R Class, V251
2005
-
Audio20
Audio50
Mercedes-Benz Audio 20 head unit
Porsche
Porsche model
Model years
Head Unit
From
To
911 (996 Mk2)
2003
2005
CDR-23
CDR-24
911 (997)
2005
-
CDR-23
CDR-24
Boxster/Cayman
2003
-
CDR-24
CDR-23
Cayenne
2003
-
CDR-24
CDR-23
Saab
Saab model
Model years
Head Unit
From
To
9-3
2003
2006
Without display
BMW
BMW model
Model years
Head Unit
From
To
7 Series, E65/66
2001
2005
all
iPods/iPhones Compatibility*
iPod 3G
iPod 4G
iPod 4G Photo
iPod mini
iPod 5G Video
iPod nano (1st, 2nd, 3rd, 4th generation)
iPod Classic
iPod touch (1st, 2nd generation)
iPhone 1G
iPhone 3G
*Requires an optional iPod connection cable or cradle
USB Compatibility
Flash Memory and Hard Disk Drive (USB1.1 and higher)
File System: FAT16 or FAT32
Storage capacity: up to 64 GB
Audio Formats Compatibility
Supported audio formats:
MP3
MPEG1 Layer 3 : 32; 44,1; 48 kHz (32 - 320kbps);
MPEG2 Layer 3 : 16; 22,05; 24 kHz (8 - 160kbps);
MPEG2.5 Layer 3 : 8; 11.025; 12 kHz (8 -160 kbps) from 96 kb/s to 320 kb/s;
MP3 Variable Bit Rate (VBR) (up to 320kb/s)
WMA 4 - 44.1 kHz at sample rates up to 320 kb/s. Except for DRM protected files
WAV (16 bit, uncompressed PCM)
Unsupported WMA formats:
WMA Pro
WMA lossless
WMA DRM
Supported Playlist formats:
Dension Gateway Lite USB / iPod MOST Adapter
Manuals
Manuals
Compatibility
Firmware
Dension Gateway Lite USB / iPod MOST Adapter
Package Content
GWL1MO1 Dension Gateway adapter
Power cable
Accessory pack (USB extension cable, clip, screw kit)
MOST cable (DEGWL-9010-1)
User manual
Installation manual
Note! iPod / iPhone cables are not supplied with this Dension gateway Lite adapter. Please choose the required cable or cradle among the related products listed below or in the Dension Accessories category.
Specifications
Dension iPod/USB Adapter is compatible with the following models of Cars

BMW
Mercedes-Benz
Porsche
Saab

Dension iPod/USB Adapter is compatible with the following models of Cars
Dension iPod/USB Adapter is compatible with Head Units
Dension iPod/USB Adapter is compatible with Bluetooth/USB adapters for iPhone/Smartphone
Connectable devices
Bluetooth Connection
AUX input
Models
Track title display
OEM buttons control
Car iPod/USB MOST Adapter Dension Gateway Lite for Mercedes-Benz/Porsche/Saab (GWL1MO1)