Charge Connector compatible with Samsung T350 Galaxy Tab A 8.0, T355 Galaxy Tab A 8.0 LTE; Samsung A600 Dual Galaxy A6 (2018), A600F Dual Galaxy A6 (2018), A605 Dual Galaxy A6+ (2018), J100H/DS Galaxy J1, J250F Galaxy J2 (2018), J320H/DS Galaxy J3 (2016), J330F Galaxy J3 (2017), J400F Galaxy J4 (2018), J5008 Galaxy J5 LTE, J500F/DS Galaxy J5, J500H/DS Galaxy J5, J500M/DS Galaxy J5, J530F Galaxy J5 (2017), J600F Galaxy J6, J700, J7008 Galaxy J7 LTE, J700F/DS Galaxy J7, J700G, J700H/DS Galaxy J7, J700i, J700M/DS Galaxy J7, J730F Galaxy J7 (2017), (7 pin, micro USB type-B)
No results found for your request.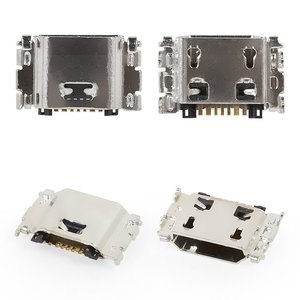 Add to comparison
Compare
Availability in stock:
HK
EU
CN
Note! This item is shipped within 7 working days.
Overview
Charge Connector is compatible with the following models of Cell phones

Samsung J700
Samsung J700G
Samsung J100H/DS Galaxy J1
Samsung J500H/DS Galaxy J5
Samsung J700H/DS Galaxy J7
Samsung J5008 Galaxy J5 LTE
Samsung J7008 Galaxy J7 LTE
Samsung J320H/DS Galaxy J3 (2016)
Samsung J500M/DS Galaxy J5
Samsung J700F/DS Galaxy J7
Samsung J500F/DS Galaxy J5
Samsung J730F Galaxy J7 (2017)
Samsung J530F Galaxy J5 (2017)
Samsung J330F Galaxy J3 (2017)
Samsung A605F Dual Galaxy A6+ (2018)
Samsung J250F Galaxy J2 (2018)
Samsung J400F Galaxy J4 (2018)
Samsung J600F Galaxy J6
Samsung A600F Dual Galaxy A6 (2018)
Samsung A605 Dual Galaxy A6+ (2018)
Samsung A600 Dual Galaxy A6 (2018)
Samsung J700i
Samsung J700M/DS Galaxy J7

Charge Connector is compatible with the following models of Tablets

Samsung T355 Galaxy Tab A 8.0 LTE
Samsung T350 Galaxy Tab A 8.0

Number of pins
Plug type
Characteristic
Installation Method
Specifications
Charge Connector is compatible with the following models of Cell phones

Samsung J700
Samsung J700G
Samsung J100H/DS Galaxy J1
Samsung J500H/DS Galaxy J5
Samsung J700H/DS Galaxy J7
Samsung J5008 Galaxy J5 LTE
Samsung J7008 Galaxy J7 LTE
Samsung J320H/DS Galaxy J3 (2016)
Samsung J500M/DS Galaxy J5
Samsung J700F/DS Galaxy J7
Samsung J500F/DS Galaxy J5
Samsung J730F Galaxy J7 (2017)
Samsung J530F Galaxy J5 (2017)
Samsung J330F Galaxy J3 (2017)
Samsung A605F Dual Galaxy A6+ (2018)
Samsung J250F Galaxy J2 (2018)
Samsung J400F Galaxy J4 (2018)
Samsung J600F Galaxy J6
Samsung A600F Dual Galaxy A6 (2018)
Samsung A605 Dual Galaxy A6+ (2018)
Samsung A600 Dual Galaxy A6 (2018)
Samsung J700i
Samsung J700M/DS Galaxy J7

Charge Connector is compatible with the following models of Tablets

Samsung T355 Galaxy Tab A 8.0 LTE
Samsung T350 Galaxy Tab A 8.0

Number of pins
Plug type
Characteristic
Installation Method
Spare Parts Quality Levels
Charge Connector compatible with Samsung T350 Galaxy Tab A 8.0, T355 Galaxy Tab A 8.0 LTE; Samsung A600 Dual Galaxy A6 (2018), A600F Dual Galaxy A6 (2018), A605 Dual Galaxy A6+ (2018), J100H/DS Galaxy J1, J250F Galaxy J2 (2018), J320H/DS Galaxy J3 (2016), J330F Galaxy J3 (2017), J400F Galaxy J4 (2018), J5008 Galaxy J5 LTE, J500F/DS Galaxy J5, J500H/DS Galaxy J5, J500M/DS Galaxy J5, J530F Galaxy J5 (2017), J600F Galaxy J6, J700, J7008 Galaxy J7 LTE, J700F/DS Galaxy J7, J700G, J700H/DS Galaxy J7, J700i, J700M/DS Galaxy J7, J730F Galaxy J7 (2017), (7 pin, micro USB type-B)