Cyclone Box Server Credits
No results found for your request.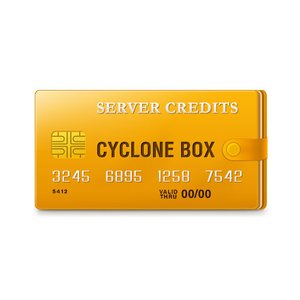 Add to comparison
Compare
Virtual product. Instructions provided by e-mail.
Purchase of this virtual product is generally processed within 2 hours after we received your payment in full. For details please read
FAQ
.
Overview
Server credits for Cyclone Box allow user to perform Nokia BB5 (including SL3) cell phones * unlock and repair.
Cyclone Box Server Credits Updates
Cyclone Box Installer v1.09 (02.08.2010)
Introduced new BB5 Loaders v10.22.00
Added SL3 unlocking (server connection and credits required) for:

2700 Classic (RM-561)
2730 Classic (RM-57
2730c-1b (RM-579)
2690c (RM-635)
3600 Slide (RM-352) v56.26 – v57.23
3720 Classic (RM-51)
5130 XpressMusic (RM-495)
5310 XpressMusic (RM-303) v58.58 – v59.42
5730s (RM-465)
6300 (RM-217) v57.20
6303 Classic (RM-443)
6500 Slide (RM-240) v59.60
6500 Classic (RM-265) v59.45
N97 (RM-505/506/507)
N97 mini (RM-555)

When using New Protocol flashing, software reminds about correct TX2 cable and yellow adapter
Added Manual Mode to retrieve SL3 NCK if you dont have phone in hand (just enter IMEI when asked)
Added "Erase NCK Codes"
Fixed BlackBerry calculation problems
Released Firmware v1.46
Added SL3 Routines
Minor changes and bugfixes
*To unlock one SL3 phone 60 credits are required
**Using the update requires Firmware v1.46
Download Cyclone Box Installer v1.09
Cyclone Box Server Credits Consumption
Services
Cyclone Credits quantity
100
300
1000
5000
9DDB unlock/relock/SL repair (at least 100 credits are required to use this service)
10
8
7
6
5
DCT4 RPL
1
0.8
0.7
0.6
0.5
DCT4+ RPL
2
1.6
1.4
1.2
1
DCT4+ Super Activation
50
40
35
30
25
Please provide us with your Cyclone Box serial number while making the order.
* Developer provides support only for those phones which are on the list of supported. Not all servicing features can be applied to some supported models, due to difference of hardware / software versions. Complete list of supported models you can find on the official product page, or on the GSM forum.
Specifications
| | |
| --- | --- |
| Credit is compatible with the following models of Boxes | |
| Credit is compatible with the following models of Cell phones | |