DC-Unlocker Activation for Vygis (Full)
No results found for your request.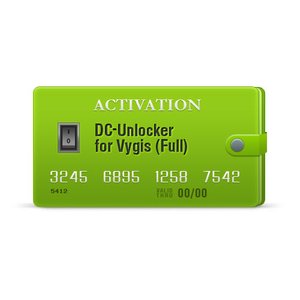 Add to comparison
Compare
Virtual product. Instructions provided by e-mail.
Purchase of this virtual product is generally processed within 2 hours after we received your payment in full. For details please read
FAQ
.
Overview
DC-Unlocker activation lets you use all of the DC-Unlocker software features on any Vygis box or dongle. With this activation you can unlock almost all of the supported modem models * for free. Although you'll need some credits to service some of the modems.
To each full activation we add 50 credits free. You can view amount of credits needed for one operation here.
It is necessary to give us correct SN of your Vygis box or dongle.
DC-Unlocker Activation for Vygis – Outstanding Features
Intuitive interface
Time saving solution (one unlock takes from 5 to 60 seconds)
Free updates
Constantly updating list of supported models
No need to choose any COM-ports, software will automatically detect connected modem
DC-Unlocker v..1308. FRP Unlock added for: *
Huawei Ascend Y6 Pro:TIT-AL00, TIT-CL10, TIT-L01, TIT-L02, TIT-U02, TIT-TL00;
Huawei G9:VNS-DL00;
Huawei P9 Lite:VNS-L01, VNS-L02, VNS-L03, VNS-L11, VNS-L21, VNS-L22, VNS-L31, VNS-L53, VNS-TL00;
Huawei Honor 4C Pro:TIT-L01, TIT-TL00;
Holly2 plus:TIT-AL00, TIT-CL10;
Huawei G Power:TIT-U02;
HUAWEI Y3II:LUA-L01, LUA-L02, LUA-L21;
HUAWEI ECO:LUA-L03, LUA-L13, LUA-L23.
Download list of supported models of DC-Unlocker activation for Vygis (doc).
* Developer provides support only for those phones which are on the list of supported. Not all servicing features can be applied to some supported models, due to difference of hardware / software versions. Complete list of supported models you can find on the official product page, or on the GSM forum.
Detailed information on the further use of the virtual product will be sent to your email, specified during registration, when we confirm your payment and process your order.
Specifications
| | |
| --- | --- |
| Activation is compatible with the following models of Boxes | |
| Activation is compatible with the following models of Cell phones | |
Customers, interested in this product, also viewed