Digital Multimeter Mastech / V&A MS8201H
No results found for your request.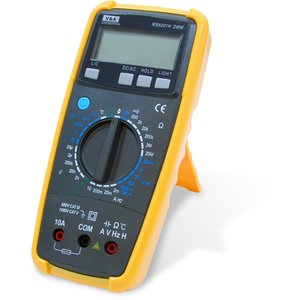 Add to comparison
Compare
Availability in stock:
HK
CN
Overview
This digital multimeter measures DC/AC voltage, DC/AC current, resistance, capacitance, inductance, environment temperature, sinusoidal signal frequency. It can also be used for testing diodes, transistors and continuity.
Mastech / V&A MS8201H Digital Multimeter Features
Ideal for use at workshops and schools, for hobbies and home applications.
Single operation of a range switch. Overload protection and low battery indicator.
Measuring method: dual-slope integration A/D converter
Operating altitude: 2000 meters maximum.
Data hold function.
22 mm LCD with backlight.
Mastech / V&A MS8201H Digital Multimeter Technical Specifications
Features
Characteristics
Values
DC Voltage
Range
200 mV/ 2 / 20 / 200 / 1000 V
Resolution
0,1 / 1 / 10 / 100 mV /1 V
Accuracy
± (0,5 % + 1 digit) 200 mV
± (0,5 % + 3 digits) 2 / 20 / 200 mV
± (0,8 % + 3 digits) 1000 V
DC Current
Range
2 / 20 / 200 mA / 10 A
Resolution
1 / 10 / 100 µA /10 mA
Accuracy
± (1,0 % + 3 digits) 2 / 20 mA
± (1,5 % + 5 digits) 200 mA
± (2,0 % + 10 digits) 10 A
AC Voltage
Range
200 mV / 2 / 20 / 200 / 700 V
Resolution
0,1 / 1 / 10 / 100 mV /1 V
Accuracy
± (1,2 % + 5 digits) 200 mV
± (1,0 % + 5 digits) 2 / 20 / 200 mV
± (1,2 % + 3 digits) 700 V
AC Current
Range
2 / 20 / 200 mA / 10 A
Resolution
1 / 10 / 100 µA /10 mA
Accuracy
± (1,2 % + 5 digits) 2 / 20 mA
± (2,0 % + 5 digits) 200 mA
± (3,0 % + 10 digits) 10 A
Resistance
Range
200 Ω / 2 / 20 / 200 kΩ / 2 / 20 MΩ
Resolution
0,1 / 1 / 10 / 100 Ω /1/ 10 kΩ
Accuracy
± (1,0 % + 3 digits) 200 Ω
± (1,0 % + 1 digit) 2 / 20 / 200 kΩ 2 MΩ
± (1,0 % + 5 digits) 20 MΩ
Capacitance
Range
2 / 20 / 200 nF / 2 / 20 µF
Resolution
1 / 10 pF / 0,1 / 1 / 10 nF
Accuracy
± (4 % + 8 digits) 2 nF
± (4 % + 3 digits) 20 / 200 nF / 2 µF
± (4 % + 5 digits) 20 µF

Inductance
Range
2 / 20 / 200 mH / 2 / 20 H
Resolution
0,001 / 0,01 / 0,1 / 1 / 10 mH
Accuracy
± (4 % + 8 digits) 2 mH
± (4 % + 3 digits) 20 / 200 mH / 2 H
± (4 % + 5 digits) 20 H
Temperature
Range
-20 °C to 1000 °C
Resolution
1 °C
Accuracy
± (5 % + 4 digits) -20 °C to 0 °C
± (1 % + 3 digits) 0 °C to 400 °C
± (2 % + 3 digits) 400 °C to 1000 °C
Frequency
Range
20 kHz
Resolution
10 Hz
Accuracy
± (1,5 % + 5 digits)

Display
Screen
22 mm LCD
Indication format
3½ bits (19999)
General Information
Power Source
9 V, NEDA 1604 or 6F22
Size
185×84×38 mm
Weight
300 g
Specifications
| | |
| --- | --- |
| Type | |
| Digit Capacity | |
| Range Selection | |
| DC Voltage | |
| AC Voltage | |
| DC | |
| AC | |
| Resistance | |
| Capacitance | |
| Frequency | |
| Duty cycle | |
| Temperature | |
| Inductance | |
| Power | |
| True RMS | |
| Backlight | |
| Analog bar graph | |
| Continuity test | |
| Transistor check | |
| Diode test | |
| PC connection | |
Customers, interested in this product, also viewed