Digital Storage Oscilloscope ATTEN ADS1022C
No results found for your request.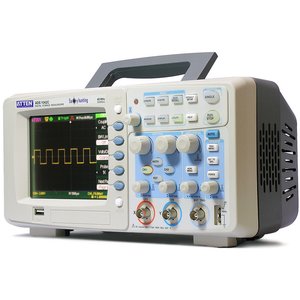 Add to comparison
Compare
ID: 816544
8.3 kg
110, 220 V
Availability in stock:
HK
EU
CN
UA
Overview
ATTEN ADS1022C Digital Storage Oscilloscope is produced on the same platform as the WaveAce oscilloscopes from the world-known manufacturer LeCroy.
ATTEN ADS1022C meets all the requirements of the modern budget oscilloscopes.
ATTEN ADS1022C is a 2-channel oscilloscope with the bandwidth of 25MHz, sampling frequency of 500 Ms/s and internal memory of up to 4 K.
32 built-in automatic measurement functions, such as signal time gaps measurement, phase measurements etc. Also it enables user to understand and analyze input waveforms. Additional functions of access control, user-defined digital filters and more make calibration process much easier for user.
User-friendly interface. 11 different menu languages.
Built-in USB-host allows connection of external data storage devices. USB slot on the rear panel allows direct connection of printer or PC/ Usage of EasyScope Computer Software System allows remote operation of the oscilloscope via virtual control panel and provides the possibility of saving waveform data as arrays or images directly to PC.
ATTEN ADS1022C Digital Storage Oscilloscope Features
2 channels Bandwidth - 25 MHz
Compact design saves space and allows a comfortable outdoor work.
5.7" Color LCD screen (320x234) Clear and stable waveform display.
Sampling rate - 500 MS/s
Equivalent sampling rate - 50 GS/s
Internal memory - 4K
Advanced start functions: frontal, video, pulse length, pulse delay
Built-in USB-host, USB-slot for PC connection
Digital filter and recorder functions.
"Good/bad" mode
32 automatic measurements
Pointer measurement modes: manual, tracking and automatic
5 mathematic functions: adding, subtraction, multiplying, division, FFT if memory length = 1K, digital filters (HF, LF, linear, elimination)
Frame waveform registering mode (up to 2500 frames, recording and replaying)
Comparative Specifications for ATTEN ADS1000CM/C Series Digital Storage Oscilloscopes
Model
ADS1152CM
ADS1102CM
ADS1062CM
ADS1042CM
ADS1022C
Bandwidth
150 MHz
100 MHz
60 MHz
40 MHz
25 MHz
Sampling Rate
1 GSa/s
500MSa/s
Equivalent Sampling Rate
50 GSa/s
Memory Depth
Single Channel: 40Kpts/2Mpts; Double Channels: 20Kpts/1Mpts
4Kpts
Rise Time
<2.3ns
<3.5ns
<5.8ns
 
<14ns
Input Impedance
1MΩ || 13pF
Sec/div Range
2.5ns/div-50s/div
5ns/div-50s/div
 
25ns/div-50s/div
Scan: 100ms-50s/div
Display
Color LCD (320×234)5.7" LCD
ATTEN ADS1022C Digital Storage Oscilloscope Technical Specifications
Model
ADS1022C
Channels:
2 channels
Bandwidth
25 MHz
Sampling rate
500 MS/s
Equivalent sampling rate
50 GS/s
Memory
4K points
Building-up time
<14ns
Input impedance
1MOm 13pF
Horizontal sweep time
25 ns/dgt -50 ns/dgt
Display
5.7" Color LCD screen (320x234)
Vertical sensitivity
2 mV/dgt - 5 V/dgt (1-2-5 Sequence)
Vertical resolution
8 bit
A1 and A2 input modes
DC, AC, ground
Max. input voltage
400 V( DC + AC, (1MOm input impedance 10X),
5 V(50Om input impedance, BNC )
Launch modes
frontal, video, pulse length, pulse delay
Sweep launch modes
Auto, normal, singular
Sync sources

CH1, CH2, Ext, Ext/5, AC Line

Store/Recall
Up to 20 waveforms and up to 20 control settings profiles High capacity devises can be connected to USB-slot on the osciloscope front panel.
Automatic measurements
Vpp, Vamp, Vmax, Vmin, Vup, Vdn, Vavg, Vrms, Negative peak, Positive peak, frequency, period, building-up time, fall time, positive legth, negative length, positive load coefficient, negative load coefficient, delay
Pointer measurements
Modes manual, tracking and automatic
Mathematic functions
Adding, subtracting, multiplying, dividing, FFT
FFT
Windows: Hanning, Hamming, Blackman, Square  
XY modes
Phase error ±3
Interface themes
Clssic, modern, traditional, minimal
Languages
Simplified Chinese, Traditional Chinese, English, Arab, French, German, Russian, Spanish, Portuguese, Japanese, Korean
Power supply
100-240V, 40-440Hz CAT II. 50W max
Measurements
305mmx154mmx133m
Weight
2.3kg
USB-host
External data storage support
USB
Direct PictBridge printing support; PC control
ATTEN ADS1022C Digital Storage Oscilloscope Package Contains
2 proves 10:1
EasyScope Computer Software System
Power Cord
USB-cable
User guide
Specifications
| | |
| --- | --- |
| Type | |
| Number of channels | |
| Bandwidth | |
| Sample Rate | |
| Screen Size | |
| Storage Capacity | |
Customers, interested in this product, also viewed