DT Pro Tool
No results found for your request.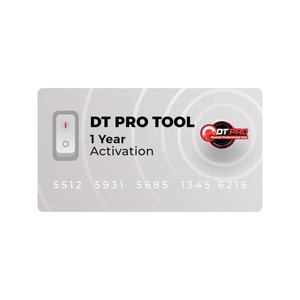 Add to comparison
Compare
Virtual product. Instructions provided by e-mail.
Purchase of this virtual product is generally processed within 2 hours after we received your payment in full. For details please read
FAQ
.
Overview
DT Pro Tool is a solution allowing you to downgrade OS version and repair Huawei phones.
This solution is permanent, annual activation is not required.
How to Downgrade Huawei Phone OS Version
Supported Models:
Huawei P10 LITE WAS-LX1
Huawei P10 LITE WAS-LX2
Huawei P10 LITE WAS-LX3
Huawei P10 LITE WAS-L03T
Huawei P10 LITE WAS-AL00
Huawei P10 LITE WAS-TL10
Huawei P10 LITE WAS-LX2J


Huawei P10 VTR-L09
Huawei P10 VTR-L29
Huawei P10 VTR-AL00
Huawei P10 VTR-TL00


Huawei P10 PLUS VKY-L09
Huawei P10 PLUS VKY-L29
Huawei P10 PLUS VKY-AL00


Huawei P10 SELFIE BAC-L03
Huawei P10 SELFIE BAC-L21
Huawei P10 SELFIE BAC-L23
Huawei P10 SELFIE BAC-AL00


Huawei P20 LITE ANE-LX1
Huawei P20 LITE ANE-LX2
Huawei P20 LITE ANE-LX3
Huawei P20 LITE ANE-LX2J
Huawei P20 LITE ANE-AL00
Huawei P20 LITE ANE-TL00


Huawei MATE9 MHA-L09
Huawei MATE9 MHA-L29
Huawei MATE9 MHA-AL00
Huawei MATE9 MHA-TL00


Huawei MATE9 PRO LON-AL00
Huawei MATE9 PRO LON-AL10
Huawei MATE9 PRO LON-L29


Huawei MATE RS NEO-AL00
Huawei MATE RS NEO-L29


Huawei MATE S CRR-CL00
Huawei MATE S CRR-CL10
Huawei MATE S CRR-CL20
Huawei MATE S CRR-J01
Huawei MATE S CRR-L09
Huawei MATE S CRR-L23
Huawei MATE S CRR-UL10
Huawei MATE S CRR-UL20A


Huawei MATE10 LITE RNE-AL00
Huawei MATE10 LITE RNE-L01
Huawei MATE10 LITE RNE-L03
Huawei MATE10 LITE RNE-L21
Huawei MATE10 LITE RNE-L22J
Huawei MATE10 LITE RNE-L23
Huawei MATE10 LITE RNE-LX1
Huawei MATE10 LITE RNE-LX3


Huawei MATE10 ALP-L09
Huawei MATE10 ALP-L29
Huawei MATE10 ALP-AL00
Huawei MATE10 AL-TL00


Huawei MATE10 PRO BLA-L09
Huawei MATE10 PRO BLA-L29
Huawei MATE10 PRO BLA-AL00
Huawei MATE10 PRO BLA-TL00


Huawei HONOR 8 PRO DUK-L09
Huawei HONOR 8 PRO DUK-L09I
Huawei HONOR 8 PRO DUK-TL30
Huawei HONOR 8 PRO DUK-AL00
Huawei HONOR 8 PRO DUK-AL20


Huawei HONOR9 STF-L09
Huawei HONOR9 STF-AL00
Huawei HONOR9 STF-AL10
Huawei HONOR9 STF-TL10


Huawei HONOR V10 BKL-AL20
Huawei HONOR V10 BKL-L04
Huawei HONOR V10 BKL-L09


Huawei Y9-2018 FLA-AL10
Huawei Y9-2018 FLA-AL00
Huawei Y9-2018 FLA-LX1
Huawei Y9-2018 FLA-LX2
Huawei Y9-2018 FLA-LX3


Huawei P-SMART FIG-LX1
Huawei P-SMART FIG-LA1
Huawei P-SMART FIG-LX2
Huawei P-SMART FIG-LX3
Detailed information on the further use of the virtual product will be sent to your email, specified during registration, when we confirm your payment and process your order.
Specifications
Credit is compatible with the following models of Cell phones

Nokia
Samsung
Blackberry
LG

Credit is compatible with the following models of Boxes
Credit is compatible with the following models of Activations