Function Waveform Generator UNI-T UTG9020B
No results found for your request.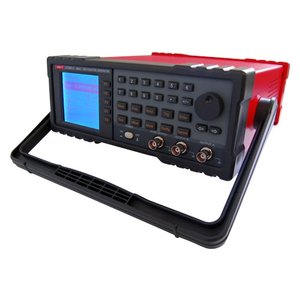 Add to comparison
Compare
ID: 828459
4.5 kg
110, 220 V
Availability in stock:
HK
EU
CN
UA
Overview
UNI-T UTG9020B function waveform generator adopts DDS technology which provides stable, high-precision, pure and low distortion sine signals. The excellent system features, user friendliness and versatile functions combination makes this arbitrary waveform / function generator a perfect solution for IC, serial bus and in-circuit function tests, simulation of sensors and natural environment signals. UNI-T UTG9020B dual channel arbitrary waveform / function generator has an intuitive user interface and simple front panel layout and instructions. Built-in AM, FM, PM and FSK modulating functions generate modulated waveforms without the assistance of a separate modulating source.
UNI-T UTG9020B Function Waveform Generator Features
DDS technology: output signals become more accurate and stable with lower distortion
2 channel output
10 standard waveforms

Sine
Pulse
Square
Triangle
Ramp up
Ramp down
Noise
SIN (X)/X
Exponential rise
Exponential fall

Versatile modulation and variety of waveforms
UNI-T UTG9020B Function Waveform Generator Technical Specifications
Waveforms
Sine, Square, Triangle, Ramp up, Ramp down, Noise, SIN (X)/X, Exponential Rise, Exponential Fall, Pulse
Amplitude characteristics
Range (no load)
from 1 mV p-p to 20 V p-p
Accuracy
± 5% (Sine at 1kHz)
Resolution
0.01 mV
Frequency characteristics
Range of Sine
from 1 μHz to 20 MHz
Range of Square
from 1 μHz to 5 MHz
Range of other waveforms
from 1 μHz to 1 MHz
Stability
50 ppm (from -10℃ to 40℃)
Resolution
0.1 μHz or 8 digit
Accuracy
0.1 μHz (<100 Hz), 0.4 Hz (>100 Hz)
Signal characteristics
Harmonic distortion of Sine
<20 kHz: -60 dBc
20 kHz to 1 MHz: -50 dBc
1 MHz to 10 MHz: -40 dBc
10 MHz to 20 MHz: -30 dBc
Rise/fall time
<20 ns
Overshoot
<5%
Asymmetry
1% + 20 ns
Duty cycle of Pulse
0.1% to 99.9%
Linearity of Triangle, Ramp
<1%
Modulation characteristics
Modulation Mode
linear sweep (LIN SWP), logarithmic sweep (LOG SWP), FDK, PSK,
ASK, BURST, INF FM, INT PM, INT AM and external AM (EXT AM)
Output A (main output)
Output impedance
50 Ω
DC offset
from -100% to 100% Vpeak
Output B
Waveform
all internal waveforms
Amplitude
200 mV p-p to 20 V p-p (no load)
Output impedance
600 Ω
Frequency range
0.1 Hz to 20 kHz
Frequency counter
frequency range: 1 Hz to 100 MHz
amplitude range: 100 mV to 5 V
General characteristics
Power
AC 220 V / 50 Hz
Weight, kg
3
Dimensions, mm
320 × 240 × 100
UNI-T UTG9020B Function Waveform Generator Package
Waveform generator UNI-T UTG9020B
Power cord
User manual
Specifications
| | |
| --- | --- |
| Channels | |
| Max. signal frequency | |
Customers, interested in this product, also viewed