Fusion Splicer Ilsintech Keyman S1
No results found for your request.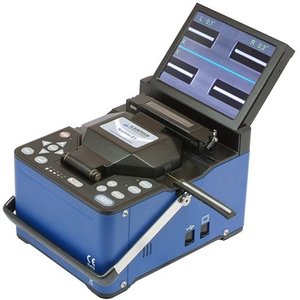 Add to comparison
Compare
ID: 832727
8 kg
110, 220 V
Availability in stock:
HK
EU
CN
Overview
Ilsintech Keyman S1 is an automatic fusion splicer with an advanced DCA (Direct Core-to-Core Alignment) system, designed specially for field engineers. Ilsintech Keyman S1 is one of the most smallest and fastest fusion splicers, which is available right now.
Ilsintech Keyman S1 Fusion Splicer Features
Large capacity lithium polymer battery
5.6-inch color LCD display
V-shape dual tube heater module
Cooling tray between heater and monitor
Fast splice (9 seconds) and heating time (26 seconds)
USB 2.0 interface
Ilsintech Keyman S1 Fusion Splicer Technical Specifications
Applicable fibers

SM (ITU-T G.652)

MM (ITU-T G.651)

DS (ITU-T G.653)

NZDS (ITU-T G.655)

Coating diameter
100 ~ 1000 µm
Cladding diameter
80 ~ 150 μm
Average splice loss

SM: typ. 0.02 dB

MM: typ. 0.01 dB

DS: typ. 0.04 dB

NZDS: typ. 0.04 dB

Return loss
≤60 dB
Splice time
Fibers cleave length
250 µm (coat): 8 ~ 16 mm, 250 µm ~ 1000 µm: 16 mm
Power source
DC 14.8 V Battery (5600 mAh); 100 ~ 240 V AC Charger
Tube heating time

26 seconds (S-160: 60 mm Sleeve)

Storage of splice results
max. 2.000 results
Interface
USB 2.0, RCA
Display
5.6-inch color LCD
Operation conditions
-10 ~ +50 °C (temperature), 0 ~ 95% (humidity), 0 ~ 5000 m (altitude)
Storage environment
-40 ~ +80 °C (temperature)
Dimensions (W × D × H)
150 × 190 × 120 mm
Weight
2.6 kg
Ilsintech Keyman S1 Fusion Splicer Packaging
Ilsintech Keyman S1 fusion splicer (1 pc.)
AC charger (1 pc.)
Sleeve loader (1 pc.)
Spare electrodes (1 pair)
Battery pack (1 pc.)
Carrying case (1 pc.)
User Manual (1 pc.)