Fusion Splicer Jilong KL-350E
No results found for your request.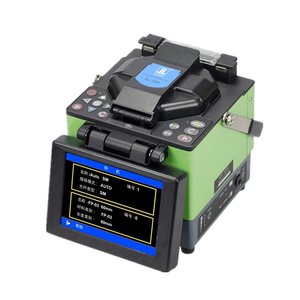 Add to comparison
Compare
ID: 866953
12 kg
110, 220 V
Availability in stock:
HK
EU
CN
UA
Overview
Jilong KL-350E Fusion Splicer is an automatic fusion splicer with core or cladding fiber alignment. The device is capable of splicing a fiber in 9 seconds and heating a splice sleeve in 30 seconds. Jilong KL-350E is characterized by an automatic splicing program selection function and automatic quality check.
5.6-inch color LCD monitor with clear digital image displaying ensures easy and comfortable operation with Jilong KL-350E. Splicing area viewing is ensured by single view and simultaneous view option for X or Y axes.
The package includes KL-21B High Precision Fiber Cleaver.
Features
Core/cladding fiber alignment technique.
Clear fiber core displaying.
Applicable fibers: Single-mode, Multi-mode, Dispersion-shifted, Non-zero dispersion-shifted.
Splicing time: 9 seconds.
Heating time: 30 seconds.
Single view & simultaneous view of X or Y axes.
Auto splicing program selection.
Auto quality check.
5.6-inch color LCD monitor with clear digital image displaying.
Compact and lightweight.
Easy to use operation menu.
Software upgrade via USB interface.
KL-21B High Precision Fiber Cleaver included.
Technical Specifications
Splicing
Applicable fibers
SM (ITU-T G.652),  MM (ITU-T G.651),  DS (ITU-T G.653),  NZDS (ITU-T G.655)
Fiber cleaved length
8 ~ 16 mm (coating diameter: 250 µm) 
Fiber diameter
Cladding diameter: 80 ~ 150 µm
Coating diameter: 100 ~ 1000 μm
Fiber count
Single
Fiber alignment method
core alignment, cladding alignment, manual alignment
Average splice loss
0.02 dB (SM),  0.01 dB (MM),  0.04 dB (DS),  0.04 dB (NZDS) 
Splicing time
typical 9 sec (standard SM fiber)
Splicing programs
53 (templates), 40 (user adjustable)
Return loss
> 60 dB
Internal memory
4000 results, 20 parameters per result
Fiber image magnification
300X (X or Y view)
150X (X and Y view)
Auto alignment
Yes
Splicing area viewing
Yes (2 CMOS cameras)
Splice loss assessment
Yes
Splicing mode
Auto, Normal, Special
Fiber cleaved angle threshold
0.1° – 10.0°, with a step of 0.1°
Heating
Heating time
typical 30 sec
Heating programs
9 (templates), 24 (user adjustable)
Heating temperature adjustment
Available
Applicable sleeves 
60 mm, 40 mm and a series of micro sleeves
General
Tension test
2 N
Electrode life
2500 splicing cycles
Battery capacity
typical 160 cycles (splicing and heating)
Display
5.7 inch TFT color LCD
Interface
USB 1.1 and VGA
Operating conditions
0 ~ 5000 m above sea level;  0 ~ 95% RH; –10 ~ 50°C,  respectively;  max. wind velocity of 15 m/s
Power supply
AC adapter (AC 100–240 V);  Li-battery (8000 mAh)
Dimensions (L×W×H)
150 × 150 × 150 mm
Weight
2.7 kg (excluding battery)
3.2 kg (including battery)
Video
Package Contents
Jilong KL-350E Fusion Splicer — 1 pc.
KL-21B High Precision Fiber Cleaver — 1 pc.
CFS-2 fiber stripper — 1 pc.
Internal rechargeable Li battery — 1 pc.
AC adaptor — 1 pc.
AC power cord — 1 pc.
Spare electrodes — 2 pcs.
Cooling tray — 1 pc.
Cleaning tools — 1 pc.
Operating manual — 1 pc.
Carrying case with a belt — 1 pc.
Fusion Splicer Jilong KL-350E