Handheld Digital Oscilloscope Hantek DSO1202B
No results found for your request.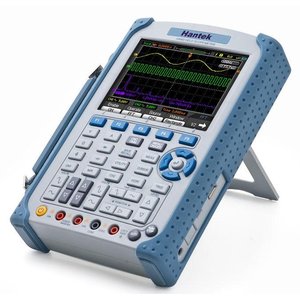 Add to comparison
Compare
ID: 834140
2.4 kg
110, 220 V
Availability in stock:
HK
EU
CN
Note! This item is shipped within 7 working days.
Overview
DSO1000 Series digital oscilloscopes offer exceptional waveform viewing and measurements in a compact, lightweight package (245 × 163 × 52 mm). Hantek DSO1202B handheld digital oscilloscope is ideal for production test, field service, research, design, education and training involving applications of analog circuit tests and troubleshooting.
Hantek DSO1202B is the dual-channel digital oscilloscope with built-in digital multimeter functions, which allows operator to measure AC/DC current and voltage, resistance, capacitance, continuity and test diodes.
Hantek DSO1202B Handheld Digital Oscilloscope Features
Bandwidth - 200 MHz
Large 5.6 inch TFT color LCD display (resolution 640x480)
One-touch automatic setup optimizes the position, range, timebase, and triggering
23 automatic measurements
Waveform math: add, subtract, multiply, and divide
Built-in FFT function
Functions of high precision digital multimeter(6000 counts):

AC/DC voltage
AC/DC current
Resistance
Capacitance
Continuity
Diode test

Automatic cursor tracking measurements
1000 waveform records
Waveform recorder to capture/replay input waveforms from CH1 and CH2
Square wave output (2 V, 1 kHz)
USB host/device 2.0 full-speed interface
Hantek DSO1202B Handheld Digital Oscilloscope Specifications
Technical Specifications
Bandwidth
200 MHz
Real-time Sample Rate
1 GSa/s
Equivalent Sample Rate
25 GSa/s
Record Length (Sample Points)

Single-channel: maximum 1M
Dual-channel: maximum 512K

SEC/DIV Range
2 nS/div - 2000 S/div (in a 2, 4, 8 sequence)
Delay Time Accuracy
500 ps
Vertical
A/D Converter
8-bit resolution
Position Range

±50 V (5 V/div)
±40 V (2 V/div; 500 mV/div), 2 V (200 mV/div; 50 mV/div)
±400 mV (20 mV/div; 2 mV/div)

Rise Time at BNC
≤1.7 ns
DC Gain Accuracy

±4% for Sample or Average acquisition mode, 5 mV/div to 2 mV/div
±3% for Sample or Average acquisition mode, 5 V/div to 10 mV/div

Trigger
Trigger Sensitivity (Edge Trigger Type)

DC: CH1/CH2 (Typical) 1 div from DC to 10 MHz; 1.5 div from 10 MHz to Full
EXT (Typical) 20 0mV from DC to 40 MHz
EXT/5 (Typical) 1 V from DC to 40 MHz
AC: Attenuates signals below 10 Hz
HF Reject: Attenuates signals above 80 kHz
LF Reject: Attenuates signals below 150 kHz
Noise Reject: Reduces trigger sensitivity

Trigger Level Range

CH1, CH2: ±8 divisions from center of screen
EXT: ±1.2 V EXT/5: ±6 V

Holdoff Range
100 ns - 10 s
Trigger Type
Edge
Trigger on the rising or falling edge
Pulse Width

Trigger (when >,<,=,≠) on positive or negative pulses
Pulse width range: 20 ns - 10 s

Video

Trigger on an NTSC, PAL, or SECAM standard video signal
Line Range: 1-525 (NTSC), 1-625 (PAL/SECAM)

Slope

Trigger (when >,<,=,≠) on a positive or negative slope
Set Time: 20 ns – 10 s

Overtime

From the rising or falling edge
Set Time: 20 ns – 10 s

Alternate
Internal trigger on edge, pulse width, video or slope
Cursors and Measurement
Cursors

Manual: The difference between voltage cursors △V; the difference between time cursors △T; 1/△T calculated by Hz.
Tracing: The voltage and time at a waveform point

Automatic
Pk-Pk, Max, Min, Mean, Cyc RMS, Frequency, Period, Rise Time, Fall Time, Positive Width, Negative Width
Multimeter Mode
Maximum Resolution
6,000 counts
Testing Modes
AC/DC voltage, AC/DC current, resistance, capacitance, diode test, continuity
Maximum Input Voltage
AC: 600 V, DC: 800 V
Maximum Input Current
AC: 10 A, DC: 10 A
Input Impedance
10 MΩ
Display and General
Display Type
5.6 inch 16-digit color LCD
Resolution
640x480
Interface
USB host, LAN (optional)
Dimensions
245 x 163 x 52 mm
Hantek DSO1202B Handheld Digital Oscilloscope Package Contents
Hantek DSO1202B oscilloscope (1 pc.)
Multimeter test leads (1 pair)
Oscilloscope probes (1 pair)
USB cable (1 pc.)
Carrying bag (1 pc.)
Power adapter (1 pc.)
Disc with software (1 pc.)
User manual (1 pc.)
Specifications
| | |
| --- | --- |
| Type | |
| Number of channels | |
| Bandwidth | |
| Sample Rate | |
| Screen Size | |
| Storage Capacity | |
Customers, interested in this product, also viewed