Hua Tool Software Activation for Asansam Box/Dongle (convert Asansam to Hua)
No results found for your request.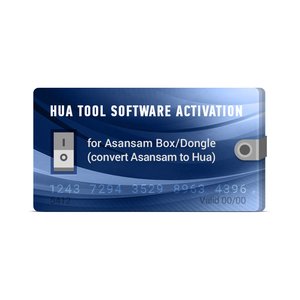 Add to comparison
Compare
Virtual product. Instructions provided by e-mail.
Purchase of this virtual product is generally processed within 2 hours after we received your payment in full. For details please read
FAQ
.
Overview
Activation for AsanSam Box / AsanSam Dongle (convertion to Hua Tools).
50 brands and 10000 smartphone models are supported.
HUA Dongle - Supported Features:
One click direct unlock for Samsung Exynos phones without root in 11 seconds
One click IMEI repair for Motorola/ZTE/Xiaomi/Lenovo/LG and most other Qualcomm phones with and without root
One click direct unlock for Motorola/ZTE/Xiaomi/Lenovo/LG and most other Qualcomm phones with and without root
Huawei Hexagon phones supported (the same Y625)
Repair simlock/security for G6, G630, and Y530 with root
One click IMEI repair for Huawei Windows phone same W1 without root
Repair IMEI and security for Huawei Qualcomm phones after change of eMMC IC
IMEI repair for all Huawei Qualcomm phones in 3 sec (authorization by HDE pack is required)
Direct unlock for most Huawei Qualcomm phones (with root)
Write flash for Huawei Qualcomm phones (fastboot mode)
One click IMEI repair for ZTE Hexagone phones without root
Reset FRP in fastboot mode for Qualcomm phones
Reset FRP in fastboot mode for Huawei SPD phones
Reset FRP in fastboot mode for MTK phones
Read and write QCN/SEC/NVM for all Qualcomm phones
Enable diag with root for most Qualcomm phones
Repair DRK with UART cable for new Samsung phones
Read unlock bootloader code for Huawei Qualcomm and Hisilicon phones (authorization by HDE pack is required)
Write flash for Huawei Hisilicon phones (fastboot mode)
Read and write NV for most of Hisilicon phones
One click IMEI null repair for some Hisilicon phones
One click IMEI repair for some HTC phones (don't have Hboot) without root same 516H
One click direct unlock for all Samsung Qualcomm phones without root
One click direct unlock with root for some Exynos phones (a method without root is also available)
Read and write security for all Samsung Exynos phones
Wipe EFS for all Samsung Qualcomm phones
Auto IMEI repair for most Samsung Qualcomm phones (no need to select or download cert)
Read and write flash for AllWinner phones
IMEI repair for AllWinner phones
One click IMEI repair for most SPD phones without root
One click IMEI repair for most LG Qualcomm phones
One click reset FRP for LG phones without root
One click direct unlock for most LG Qualcomm phones
Reset screen lock without USB debugging and root for most LG Qualcomm phones
Read, write and reset security for all LG Qualcomm phones
Reset screen lock for most Qualcomm phones
5 methods of IMEI repair for all Qualcomm phones without root
Reset FRP for most Samsung phones
Direct unlock of bootloader for most Qualcomm phones in fastboot mode
Remove all Android viruses with new method
Huawei modem calculator code
One click root for some Android versions
One click wipe for most Android phones
Enable all languages for Samsung/Huawei/HTC phones
5 methods of IMEI repair for most MTK phones
Permanent IMEI repair for most MTK phones
Read and write NVRAM for most MTK phones
Format and flash for some MTK phones
Direct unlock for most MTK phones
Read codes for most MTK phones
One click invalid IMEI repair for most MTK phones
Reset screen lock for most MTK phones without USB debugging and root
Reset FRP for Samsung 2016 phones by combination method
One click reset FRP for all Android phones by TWRP method
One click IMEI repair for some Intel/Asus phones
One click reset FRP for all Qualcomm phones (2016) by download mode
One click reset FRP for all Exynos phones (2016) by download mode
Reset FRP for Samsung 2017 phones by ADB mode
Write special patch file for all Samsung phones
HUA Qualcomm Tools (HQT) free activation on HUA

Read full device info
Read/dump firmware
Read device firmware (complete)
Write/restore firmware
Write firmware allows to flash the device in any state (alive, brick, boot dead)
Write factory firmware (.xml / Qualcomm factory images)
Write .xml format firmware
Format FS/Reset settings/Factory reset/Wipe
Wipe/reset device to factory settings
Reset FRP (Google Reset Protection)
Read pattern lock
Read pattern code
Reset FRP
Read and write security
Read and write security for Huawei phones
Authorization for Huawei phones
Select loader (manually)
Backup/restore all data/contact /data/log/sms/gallery/video
How to connect phones:

EDL mode (EDL cable can be used)
TP mode (for many phone models)

HUA Xiaomi Tools (HMI) free activation on HUA

Phone info
Read/Write/Erase Dump
Write stock firmware
Reset screen locks (Bootloader Lock)
Read pattern lock (Bootloader Lock)
Remove FRP/MI account (Bootloader Lock)
Enable Diag port
Reboot to all modes
Repair IMEI 1,2
Read and write QCN
Read and write security
Read and write modem
Repair network
Fix "Diag port not found" when IMEI is invalid
One click repair invalid IMEI
Repair invalid IMEI
Factory reset
Reset user code
Read partition blocks
Disable account
Wipe IMEI
Erase NVM

FRP tool free activation on HUA


FRP Tool allows you to reset Google Factory Reset Protection (FRP) for most Android phones

Hisilicon

Write flash
Read and write NV
One click repair IMEI Null
Read/unlock bootloader code
Direct unlock without root by credit

Android

One click root
One click wipe
Viruses removal
One click reset screen locks by TWRP mode
Direct unlock without root by credit

MediaTek

Special Flasher
Direct Unlock
IMEI Repair
Full service
Repair IMEI null
Read and write NVRAM
Reset screen lock without ADB
Format and flash
One-click Root
Reset FRP with Fastboot mode
5 method IMEI repair
Permanent IMEI repair
Read code
One click invalid IMEI repair
Reset screen lock without USB debugging and root
One click permanent IMEI repair (SN 0123456)

Qualcomm

Direct Unlock
IMEI Repair
Special Flasher
Reset screen lock without ADB
Read and write security
Repair IMEI null
Full service
One-click Root
Repair IMEI and security after change EMMC IC
Write flash
Reset FRP with Fastboot mode
Read and write QCN/SEC/NVM
Enable diag with root
Reset screen lock
5 method for repair IMEI without root
Direct bootloader unlock in Fastboot mode

AllWinner

Special Flasher
Read Flash
IMEI Repair
Reset screen lock without ADB
Repair IMEI null
Full service
One-click Root
Read and write flash

Spreadtrum

Direct Unlock
IMEI Repair
Full service
One-click Root
Reset FRP with Fastboot mode
One click repair IMEI without root
HUA Dongle - Supported Models *:
MediaTek

IMEI Repair

G302D U8812D, G500 Pro, G610, G700, G730, Honor 3C H30-U10, Honor 3X Pro, MS3A MEFAFON LOGIN2, U8836D, Y220, Y320, Y321, Y330, Y511, Y600

Direct Unlock

G500 Pro, G610, MS3A MEFAFON LOGIN2, U8836D, Y220, Y320, Y511, Y600 and all other Huawei smartphones on MT65XX platform

One-click Root

G610-U00, G610-U20, G700-U10, G700-U20, G730, Y320, Y511, G330D U8825D, G526, Honor Pro U8950-1, Premia 4G, U8815/U8816, G300/G301, Ascend G330D, Y301-A2, Y215, Ascend D1 Quad XL U9510E, Ascend G615, Ascend Mate, Honor 2, MediaPad 10 Link and almost all Huawei MTK-based phones
Qualcomm

U8100, U8100-5, U8100-9, U8105, U8107, U8109, U8110, U8120, U8150, U8150-92, U8160, U8160-U, U8180, U8180-5, U8180v, U8185, U8186, U8220, U8220 PLUS, U8225D Life Belarus, U8230, U8300, U8350, U8500, U8510, U8510-0, U8510-1, U8510-7, U8511, U8520 Deuce, U8520 Duplex, U8530, U8600, U8650, U8650-1, U8651, U8651T, U8652, U8652-51, U8655, U8655-1, U8660, U8661, U8665, U8666, U8666E, U8666N-1, U8667, U8680, U8681, U8685D, U8687, U8730, U8800, U8800 Pro, U8800-51, U8800H, U8815, U8816, U8818, U8820, U8825D, U8833, U8850, U8860, U8950 Ascend G600, U8950D Ascend G600D, U8951 Ascend G510, U8951D Ascend G510, U9000, UM840, V845, Viettel V8404, Vision, Vodafone 845, Vodafone 858 Smart, Y201D, Y210D, Ascend G301, Ascend G330D, Ascend G520, Ascend G525, Ascend II, Ascend Y100, Ascend Y101, Ascend Y200, Ascend Y201, Ascend Y201 Pro, Ascend Y210, Ascend Y300, Ascent G312, Astro, Beeline E300, Blaze, Boulder
Specifications
| | |
| --- | --- |
| Activation is compatible with the following models of Boxes | |
| Activation is compatible with the following models of Cell phones | |
Customers, interested in this product, also viewed