iPhone 5 Cradle for Dension Gateway 500S / Pro BT Adapters IP5LCRU
No results found for your request.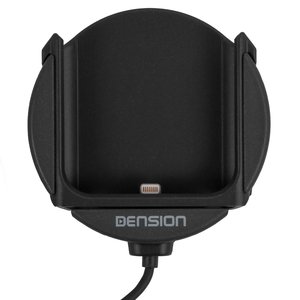 Add to comparison
Compare
Availability in stock:
HK
EU
CN
Overview
This cradle allows you to conveniently use your iPhone 5, iPhone 5s and iPhone 5c with Dension Gateway 500S series and Gateway Pro BT adapters. You can also use it with other Dension gateway adapters with the aid of LIA1GW0 Lightning Adapter. It can also be used as a charging holder with a cigarette lighter adapter.
Pick up the necessary Dension iPhone / iPod/ USB adapter here.
iPhone 5 Cradle
Features
Provides easy and secure mounting of the iPhone
Has lightning connector in the cradle
Has USB connector to plug into the Gateway (or charger)
Can be used as a charging holder with a cigarette lighter adapter
iPhone 5 Cradle
Compatibility
iPhone
iPhone 5s
iPhone 5c
iPhone 5
Note! iPhone cases and covers have to be removed before placing it into the cradle.
Gateway 500S / Pro BT Adapters
Gateway 500S (GW53xxx)
Gateway 500S BT (GW52xxx)
Gateway 500S with F-series BMW Enabler
Gateway Pro BT
Gateway Lite
Gateway Lite BT
iGateway
Gateway 300
Gateway 500 Lite MOST and D2B
Gateway 500
iPhone 5 Cradle
Package Content
Cradle
Insert for iPhones
Dash mount holder pack
Space holder for iPhone 5s and 5
Space holder for iPhone 5c
iPhone is not included in the package content.
Please note that this is not a standalone product. You can use it only together with Dension gateway adapters or with other devices with USB port which compatible with iPhones (e.g. cigarette lighter adapters).
Specifications
Accessory is compatible with Bluetooth/USB adapters for iPhone/Smartphone
Accessory is compatible with
Holders for
iPhone 5 Cradle for Dension Gateway 500S / Pro BT Adapters IP5LCRU