Air Blow Heating Oven for LCDs Disassembling (separator) TBK-228 for Apple iPad, iPad 2, iPad 3, iPad 4, iPad Air (iPad 5), iPad Air 2, iPad Mini, iPad Mini 2 Retina, iPad Mini 3 Retina, iPad Mini 4 Tablets;Samsung A300F Galaxy A3, A300FU Galaxy A3, A300G Galaxy A3, A300H Galaxy A3, A310F Galaxy A3 (2016), A310M Galaxy A3 (2016), A310N Galaxy A3 (2016), A310Y Galaxy A3 (2016), A500F Galaxy A5, A500FU Galaxy A5, A500H Galaxy A5, A510F Galaxy A5 (2016), A510FD Galaxy A5 (2016), A510M Galaxy A5 (2016), A510Y Galaxy A5 (2016), A700F Galaxy A7, A700H Galaxy A7, A710F Galaxy A7 (2016), A710FD Galaxy A7 (2016), A710M Galaxy A7 (2016), A710Y Galaxy A7 (2016), G900A Galaxy S5, G900F Galaxy S5, G900H Galaxy S5, G900I Galaxy S5, G900M Galaxy S5, G900T Galaxy S5, G900V Galaxy S5, G925F Galaxy S6 EDGE, G928 Galaxy S6 EDGE Plus, G935F Galaxy S7 EDGE, G935FD Galaxy S7 EDGE Duos, N915F Galaxy Note Edge Cell Phones
No results found for your request.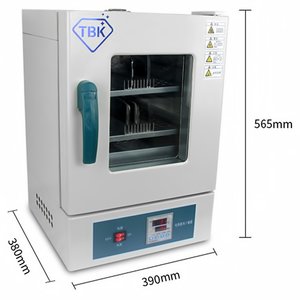 Add to comparison
Compare
Availability in stock:
HK
EU
CN
UA
Note! This item is shipped within 7 working days.
Overview
TBK-228 can unglue display modules using high-temperature air blow. The separator works as an oven. The air inside the camera is heated to the fixed temperature; the recommended temperature is 80 °C. The advantage of this device is its big chamber with two shelves. You can place 14 displays with 10 inches diagonal at the same time.
Technical Specifications
| | |
| --- | --- |
| Size | 380 × 390 × 565 mm |
| Power | 600 W |
| Weight | 30 kg |
Specifications
Air Blow Heating Oven for LCDs Disassembling (separator) is compatible with the following models of Tablets

Apple iPad
Apple iPad 2
Apple iPad 3
Apple iPad Mini
Apple iPad 4
Apple iPad Air (iPad 5)
Apple iPad Mini 2 Retina
Apple iPad Air 2
Apple iPad Mini 3 Retina
Apple iPad Mini 4

Air Blow Heating Oven for LCDs Disassembling (separator) is compatible with the following models of Cell phones

Samsung G900H Galaxy S5
Samsung G900F Galaxy S5
Samsung N915F Galaxy Note Edge
Samsung A300H Galaxy A3
Samsung A500H Galaxy A5
Samsung G925F Galaxy S6 EDGE
Samsung A700F Galaxy A7
Samsung A500F Galaxy A5
Samsung A300F Galaxy A3
Samsung G928 Galaxy S6 EDGE Plus
Samsung A500FU Galaxy A5
Samsung G900A Galaxy S5
Samsung G900M Galaxy S5
Samsung A510F Galaxy A5 (2016)
Samsung A710F Galaxy A7 (2016)
Samsung A310F Galaxy A3 (2016)
Samsung G935F Galaxy S7 EDGE
Samsung G900V Galaxy S5
Samsung G935FD Galaxy S7 EDGE Duos
Samsung A510FD Galaxy A5 (2016)
Samsung A710FD Galaxy A7 (2016)
Samsung A310N Galaxy A3 (2016)
Samsung A300FU Galaxy A3
Samsung A700H Galaxy A7
Samsung A310M Galaxy A3 (2016)
Samsung A510M Galaxy A5 (2016)
Samsung A710M Galaxy A7 (2016)
Samsung A310Y Galaxy A3 (2016)
Samsung G900T Galaxy S5
Samsung A300G Galaxy A3
Samsung A510Y Galaxy A5 (2016)
Samsung A710Y Galaxy A7 (2016)
Samsung G900I Galaxy S5
Air Blow Heating Oven for LCDs Disassembling (separator) TBK-228 for Apple iPad, iPad 2, iPad 3, iPad 4, iPad Air (iPad 5), iPad Air 2, iPad Mini, iPad Mini 2 Retina, iPad Mini 3 Retina, iPad Mini 4 Tablets;Samsung A300F Galaxy A3, A300FU Galaxy A3, A300G Galaxy A3, A300H Galaxy A3, A310F Galaxy A3 (2016), A310M Galaxy A3 (2016), A310N Galaxy A3 (2016), A310Y Galaxy A3 (2016), A500F Galaxy A5, A500FU Galaxy A5, A500H Galaxy A5, A510F Galaxy A5 (2016), A510FD Galaxy A5 (2016), A510M Galaxy A5 (2016), A510Y Galaxy A5 (2016), A700F Galaxy A7, A700H Galaxy A7, A710F Galaxy A7 (2016), A710FD Galaxy A7 (2016), A710M Galaxy A7 (2016), A710Y Galaxy A7 (2016), G900A Galaxy S5, G900F Galaxy S5, G900H Galaxy S5, G900I Galaxy S5, G900M Galaxy S5, G900T Galaxy S5, G900V Galaxy S5, G925F Galaxy S6 EDGE, G928 Galaxy S6 EDGE Plus, G935F Galaxy S7 EDGE, G935FD Galaxy S7 EDGE Duos, N915F Galaxy Note Edge Cell Phones