LCD Modules Repair Kit AS-1 for Apple iPhone 4, iPhone 4S, iPhone 5, iPhone 5C, iPhone 5S, iPhone SE; Samsung G900F Galaxy S5, G900H Galaxy S5, I9300 Galaxy S3, I9305 Galaxy S3, I9500 Galaxy S4, I9505 Galaxy S4, N7100 Note 2, N7105 Note 2, N900 Note 3, N9000 Note 3, N9005 Note 3, N9006 Note 3 Cell Phones, (for LCDs up to 7", with UV lamp, LCD module holders and 30 m of the alloy wire)
No results found for your request.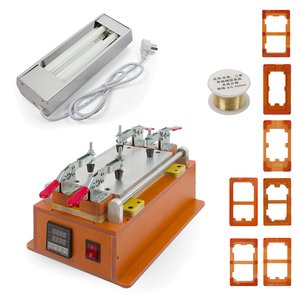 Add to comparison
Compare
Availability in stock:
HK
EU
CN
UA
Note! This item is shipped within 7 working days.
Overview
SM-252 is a screen glass separator machine which is designed for professional use. SM-252 is recommended for use with iPhone, Samsung, HTC and other smartphones.
Features
Adjustable heating temperature of the work surface (max. temperature 400 °C)
Built-in power supply protection.
Antistatic body design, preventing the LCD and the flat flex cables being damaged by static electricity.
4 adjustable arms designed for secure fixation of the display module.
Smooth metal work surface for holding the touchscreen without causing any damage.
Video
How to use
| | |
| --- | --- |
| Step 1 | Put your LCD with touchscreen on the metal work surface, LCD side upwards |
| Step 2 | Set the 4 arms to firmly hold the touchscreen on the metal work surface |
| Step 3 | Turn on the machine and wait for the metal working surface heat up to 80-100 °C |
| Step 4 | Start to separate the LCD off the glass with a wire. Be aware that you don't have to apply a lot of force in this process and keep the wire on the LCD surface, to prevent damage to the touchscreen |
Warning!
Do not heat the working surface more than 110 °C when operating; otherwise the high temperature may destroy the phone plastic parts.
Technical Specifications
| | |
| --- | --- |
| Voltage | 110/220 V, 50 Hz |
| Compatibility | Suitable for almost all types of phones (with screens up to 8 inches) |
| Dimensions | 320x160x190 mm |
| Weight | 5 kg |
Package Contents
Device — 1 pc.
Power cable — 1 pc.
Wire 30 m — 1 pc.
UV lamp — 1 pc.
LCD mould holder for in iPhone 4 / iPhone 4S / iPhone 5 / iPhone 5C, iPhone 5S / iPhone 6 / iPhone 6 Plus
LCD mould holder for Samsung G900F Galaxy S5 Duos, G900H Galaxy S5, I9300 Galaxy S3, I9305 Galaxy S3, I9500 Galaxy S4, I9505 Galaxy S4, N7100 Note 2, N7105 Note 2, N900 Note 3, N9000 Note 3, N9005 Note 3, N9006 Note 3
Specifications
LCD Modules Repair Kit is compatible with the following models of Cell phones

Apple iPhone 4
Apple iPhone 4S
Apple iPhone 5
Apple iPhone 5S
Apple iPhone 5C
Apple iPhone SE
Samsung I9300 Galaxy S3
Samsung N7100 Note 2
Samsung I9500 Galaxy S4
Samsung N7105 Note 2
Samsung N9000 Note 3
Samsung N9006 Note 3
Samsung I9505 Galaxy S4
Samsung I9305 Galaxy S3
Samsung G900H Galaxy S5
Samsung G900F Galaxy S5
Samsung N900 Note 3
Samsung N9005 Note 3

Specification
Package contents

with UV lamp, LCD module holders and 30 m of the alloy wire
LCD Modules Repair Kit AS-1 for Apple iPhone 4, iPhone 4S, iPhone 5, iPhone 5C, iPhone 5S, iPhone SE; Samsung G900F Galaxy S5, G900H Galaxy S5, I9300 Galaxy S3, I9305 Galaxy S3, I9500 Galaxy S4, I9505 Galaxy S4, N7100 Note 2, N7105 Note 2, N900 Note 3, N9000 Note 3, N9005 Note 3, N9006 Note 3 Cell Phones, (for LCDs up to 7", with UV lamp, LCD module holders and 30 m of the alloy wire)