Device for Gluing Flat Cable To LCD Module JUYU for Apple iPhone 4, iPhone 4S, iPhone 5, iPhone 5C, iPhone 5S, iPhone 6, iPhone 6 Plus, iPhone SE; Samsung I8910 Omnia HD, I9100 Galaxy S2, I9105 Galaxy S2 Plus, I9190 Galaxy S4 mini, I9192 Galaxy S4 Mini Duos, I9195 Galaxy S4 mini, I9220 Galaxy Note, I9300 Galaxy S3, I9305 Galaxy S3, I9500 Galaxy S4, I9505 Galaxy S4, N7000 Note, N7005 Note, N7100 Note 2, N7105 Note 2 Cell Phones
No results found for your request.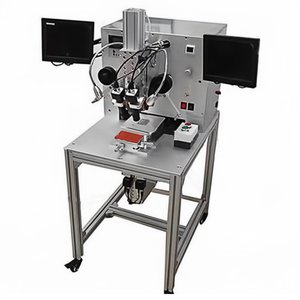 Add to comparison
Compare
Availability in stock:
HK
EU
CN
UA
Note! This item is shipped within 7 working days.
Overview
Device for Gluing Flat Cable to LCD Module is compatible with the following models of Cell phones

Apple iPhone 4
Apple iPhone 4S
Apple iPhone 5
Apple iPhone 5S
Apple iPhone 5C
Apple iPhone 6
Apple iPhone 6 Plus
Apple iPhone SE
Samsung I9100 Galaxy S2
Samsung I8910 Omnia HD
Samsung N7000 Note
Samsung I9300 Galaxy S3
Samsung I9220 Galaxy Note
Samsung N7100 Note 2
Samsung I9105 Galaxy S2 Plus
Samsung I9500 Galaxy S4
Samsung N7105 Note 2
Samsung I9190 Galaxy S4 mini
Samsung I9192 Galaxy S4 Mini Duos
Samsung I9505 Galaxy S4
Samsung I9305 Galaxy S3
Samsung N7005 Note
Samsung I9195 Galaxy S4 mini
Specifications
Device for Gluing Flat Cable to LCD Module is compatible with the following models of Cell phones

Apple iPhone 4
Apple iPhone 4S
Apple iPhone 5
Apple iPhone 5S
Apple iPhone 5C
Apple iPhone 6
Apple iPhone 6 Plus
Apple iPhone SE
Samsung I9100 Galaxy S2
Samsung I8910 Omnia HD
Samsung N7000 Note
Samsung I9300 Galaxy S3
Samsung I9220 Galaxy Note
Samsung N7100 Note 2
Samsung I9105 Galaxy S2 Plus
Samsung I9500 Galaxy S4
Samsung N7105 Note 2
Samsung I9190 Galaxy S4 mini
Samsung I9192 Galaxy S4 Mini Duos
Samsung I9505 Galaxy S4
Samsung I9305 Galaxy S3
Samsung N7005 Note
Samsung I9195 Galaxy S4 mini
Device for Gluing Flat Cable To LCD Module JUYU for Apple iPhone 4, iPhone 4S, iPhone 5, iPhone 5C, iPhone 5S, iPhone 6, iPhone 6 Plus, iPhone SE; Samsung I8910 Omnia HD, I9100 Galaxy S2, I9105 Galaxy S2 Plus, I9190 Galaxy S4 mini, I9192 Galaxy S4 Mini Duos, I9195 Galaxy S4 mini, I9220 Galaxy Note, I9300 Galaxy S3, I9305 Galaxy S3, I9500 Galaxy S4, I9505 Galaxy S4, N7000 Note, N7005 Note, N7100 Note 2, N7105 Note 2 Cell Phones