LCD Module Freezing Separator YMJ-170 for Cell Phones; Tablets, (for LCDs up to 11.1")
No results found for your request.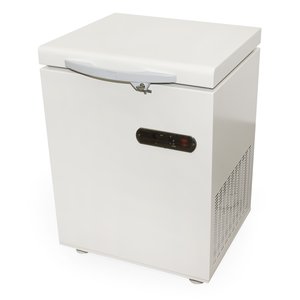 Add to comparison
Compare
Availability in stock:
HK
EU
CN
UA
Note! This item is shipped within 7 working days.
Overview
Note! This device contains refrigerant. Before ordering this item check what types of refrigerants are allowed to be imported into your country under the current legislation. Ask the manager about the type of a refrigerant while placing the order.
Video
How to use
Turn the device on. Use the round red ON/OFF button on the front panel.
Set the temperature from -150 till -130 °C.
Use green button to turn on the compressor. Wait until the device will reach the necessary temperature.
Put on special gloves.
When the device will set the required temperature, open the door and place the display modules into the chamber for 30-60 seconds.
Reach LCDs out. To remove the glass, bend it gently in an arc, pressing fingers at the edges. Be careful! Don't press too hard, you may crack the display.
Technical specifications
| | |
| --- | --- |
| Operating temperature | from -140 till -130 °C |
| Maximum temperature | -150 °C |
| Voltage | 220 V (110 V use transformer) |
| Capacity | 2000 W |
| Weight | 130 kg |
| Chamber size | 350 × 250 × 50 mm |
| Device size | 60 × 60 × 100 cm |
Specifications
LCD Module Freezing Separator is compatible with the following models of Cell phones

Apple iPhone 4
Apple iPhone 4S
Apple iPhone 5
Apple iPhone 5S
Apple iPhone 5C
Apple iPhone 6
Apple iPhone 6 Plus
Apple iPhone 6S
Apple iPhone 6S Plus
Apple iPhone 7
Apple iPhone 7 Plus
Apple iPhone 5SE
Apple iPhone SE
Samsung I9003 Galaxy SL
Samsung I9000 Galaxy S
Samsung I9100 Galaxy S2
Samsung I8910 Omnia HD
Samsung N7000 Note
Samsung I9300 Galaxy S3
Samsung I9220 Galaxy Note
Samsung N7100 Note 2
Samsung I9103 Galaxy R
Samsung I8190 Galaxy S3 mini
Samsung I9105 Galaxy S2 Plus
Samsung I9500 Galaxy S4
Samsung N7105 Note 2
Samsung I9190 Galaxy S4 mini
Samsung I9192 Galaxy S4 Mini Duos
Samsung I9295 Galaxy S4 Active
Samsung I9505 Galaxy S4
Samsung I9305 Galaxy S3
Samsung G900H Galaxy S5
Samsung I747 Galaxy S3
Samsung G800H Galaxy S5 mini
Samsung G900F Galaxy S5
Samsung N910H Galaxy Note 4
Samsung G850F Galaxy Alpha
Samsung N915F Galaxy Note Edge
Samsung I9300i Galaxy S3 Duos
Samsung A300H Galaxy A3
Samsung A500H Galaxy A5
Samsung G925F Galaxy S6 EDGE
Samsung G920F Galaxy S6
Samsung A700F Galaxy A7
Samsung A500F Galaxy A5
Samsung A300F Galaxy A3
Samsung G110 Galaxy Pocket 2 Duos
Samsung C101 Galaxy S4 Zoom
Samsung E500H/DS Galaxy E5
Samsung E700 Galaxy E7
Samsung E700F Galaxy E7
Samsung G928 Galaxy S6 EDGE Plus
Samsung J500H/DS Galaxy J5
Samsung J700H/DS Galaxy J7
Samsung A800F Dual Galaxy A8
Samsung A500FU Galaxy A5
Samsung J5008 Galaxy J5 LTE
Samsung J7008 Galaxy J7 LTE
Samsung G900A Galaxy S5
Samsung G900M Galaxy S5
Samsung J200Y Galaxy J2
Samsung A510F Galaxy A5 (2016)
Samsung A710F Galaxy A7 (2016)
Samsung A910 Galaxy A9 (2016)
Samsung A310F Galaxy A3 (2016)
Samsung J110G Galaxy J1 Ace
Samsung J110H/DS Galaxy J1 Ace
Samsung G935F Galaxy S7 EDGE
Samsung G930F Galaxy S7
Samsung J320H/DS Galaxy J3 (2016)
Samsung J500M/DS Galaxy J5
Samsung J700F/DS Galaxy J7
Samsung G900V Galaxy S5
Samsung J120H Galaxy J1 (2016)
Samsung G903 Galaxy S5 Neo
Samsung J500F/DS Galaxy J5
Samsung N910F Galaxy Note 4
Samsung A5100 Galaxy A5 (2016)
Samsung A7100 Galaxy A7 (2016)
Samsung J200F Galaxy J2
Samsung J510F Galaxy J5 (2016)
Samsung J710F Galaxy J7 (2016)
Samsung G930FD Galaxy S7 Duos
Samsung G920FD Galaxy S6 Duos
Samsung G935FD Galaxy S7 EDGE Duos
Samsung J710M Galaxy J7 (2016)
Samsung A510FD Galaxy A5 (2016)
Samsung C5000 Galaxy C5
Samsung C7000 Galaxy C7
Samsung A320F Galaxy A3 (2017)
Samsung A520F Galaxy A5 (2017)
Samsung J210 Galaxy J2 (2016)
Samsung A720F Galaxy A7 (2017)
Samsung C9000 Galaxy C9
Samsung A810F/DS Dual Galaxy A8 (2016)
Samsung A710FD Galaxy A7 (2016)
Samsung A500W Galaxy A5
Samsung G950F Galaxy S8
Samsung G955F Galaxy S8 Plus
Samsung J7108 Galaxy J7 (2016)
Samsung J5108 Galaxy J5 (2016)
Samsung A310N Galaxy A3 (2016)
Samsung N7005 Note
Samsung T999 Galaxy S3
Samsung I9301 Galaxy S3 Neo
Samsung A300FU Galaxy A3
Samsung A700H Galaxy A7
Samsung C1010 Galaxy S4 Zoom
Samsung A310M Galaxy A3 (2016)
Samsung J200G Galaxy J2
Samsung J510FN Galaxy J5 (2016)
Samsung J710FN Galaxy J7 (2016)
Samsung A510M Galaxy A5 (2016)
Samsung A710M Galaxy A7 (2016)
Samsung J110L Galaxy J1 Ace
Samsung A320Y Galaxy A3 (2017)
Samsung SM-G610 Galaxy On Nxt
Samsung J310 Galaxy J3 (2016)
Samsung I9195 Galaxy S4 mini
Samsung J111F Galaxy J1 Ace Neo
Samsung J200H Galaxy J2
Samsung A310Y Galaxy A3 (2016)
Samsung J700M/DS Galaxy J7
Samsung G900T Galaxy S5
Samsung A300G Galaxy A3
Samsung J510G Galaxy J5 (2016)
Samsung J710H Galaxy J7 (2016)
Samsung A510Y Galaxy A5 (2016)
Samsung A710Y Galaxy A7 (2016)
Samsung I9506 Galaxy S4
Samsung J110M Galaxy J1 Ace
Samsung J510M Galaxy J5 (2016)
Samsung I9507 Galaxy S4
Samsung G900I Galaxy S5
Samsung A500M Galaxy A5
Samsung I727 Galaxy S2
Samsung J510Y Galaxy J5 (2016)
Samsung I9600 Galaxy S5
Samsung B550H Galaxy Xcover
Samsung A3009 Galaxy A3
Samsung C105 Galaxy S4 Zoom
Samsung C1110 Galaxy K Zoom
Samsung Galaxy A8 (2016)
Samsung T989 Galaxy S2

LCD Module Freezing Separator is compatible with Tablets
Specification
LCD Module Freezing Separator YMJ-170 for Cell Phones; Tablets, (for LCDs up to 11.1")