Fiber Optic Networks Repair and Maintenance Set
No results found for your request.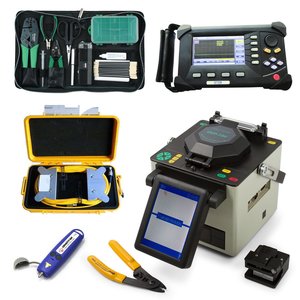 Add to comparison
Compare
Availability in stock:
HK
EU
CN
UA
Note! This item is shipped within 7 working days.
Overview
Fiber Optic Network Repair and Maintenance Equipment Set includes a fusion splicer, an optical time domain reflectometer (OTDR), a visual fault locator (VFL) and a fiber launch cable box, as well as additional hand tools (optical fiber stripper, cleaver, crimper). The set is used by fiber optic network repair engineers and technicians.
DVP fusion splicer, DVP OTDR, ORIENTEK visual fault locator, fiber launch cable box and a set of fiber optic tools in one kit ensure high-quality fiber optic network troubleshooting, fiber state assessment, fiber parameters evaluation, as well as conducting fiber optic repair operations. This combination of measurement and test devices, splicing equipment and hand tools is a basis for fiber optic tracing and identification, length measurement, continuity testing, connector loss assessment, as well as optical fiber splicing, cleaving, stripping and crimping.
Applications
Fiber optic networks installation
Fiber optic splicing
Fiber optic cleaving
Fiber optic stripping
Fiber optic crimping
Fiber optic length assessment
Fiber optic overall attenuation assessment
Fiber optic splice and mated connector losses assessment
Fiber optic tracing and identification
Fiber optic end-to-end continuity testing
Fiber optic troubleshooting: sharp bends, breaks and damages location
Package Contents
1. DVP-730 is a fusion splicer (Fujikura FSM-50S analogue). Capable of field fiber splicing of any fiber optic cable. Comes with a kit of miscellaneous tools and accessories, long battery life and both side operation option.
2. DVP-322 is a optical time domain reflectometer designed to assess the length of the fiber and its overall attenuation together with splice and mated connector losses. 5 m to 160 km distance range, 5 ns to 20 μs pulse width.
3. ORIENTEK T10 is a pocket size visual fault locator designed for tracing optical fibers, checking the fiber continuity, and troubleshooting (breaks, bad splices, and tight bends) in fiber optic cables: single-mode (> 7 km) and multimode (> 5 km).
4. Fiber Launch Cable Box used with optical time domain reflectometers (OTDRs) to help minimize the effects of the OTDRs launch pulse on measurement uncertainty.
5. Pro'sKit 1PK-940KN is a fiber optic tool kit which comes with 11 different tools.
Video
DVP-730 Fusion Splicer
ORIENTEK T10 Visual Faut Locator