Fusion Splicer Fujikura FSM-60S "Kit-A" Plus
No results found for your request.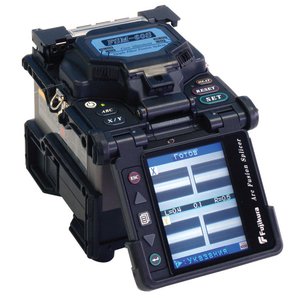 Add to comparison
Compare
ID: 835612
17 kg
110, 220 V
Availability in stock:
HK
EU
CN
UA
Overview
Fujikura FSM-60S fusion splicer sets the standard for core alignment fusion splicing by incorporating a user-friendly interface with enhanced features to provide the most rugged and reliable fusion splicer in the market today. The new rugged construction adds improved reliability by resisting shock, dust, and rain, and can withstand a 30 drop test.
Fujikura FSM-60S splices a fiber in 9 seconds and heats a 60 mm splice sleeve in 30 seconds for a total cycle time of only 39 seconds. New features, such as automatic tube heater operation, user-selectable clamping method (sheath clamp or fiber holder system), automated monitor image orientation, and battery charge capability during splicer operation provide the end user a productivity tool they can count on.
The software included in Fujikura FSM-60S package provides the ability to download splice data to a PC for splice data reporting, download splicer operating software via the internet to maintain peak performance, and download video images from the splicer to enhance technical support.
Features
Rugged construction providing shock, dust and moisture resistance
Dual monitor position with automatic image orientation
Automatic arc calibration and fiber identiication
User-selectable fiber clamping method sheath clamp or fiber holders
Auto-start tube heater feature
Color LCD display with anti-relective coating for excellent visibility in bright sunlight
Simultaneous battery charge and splicer operation
Long life battery (up to 160 splice/heat cycles per charge)
Detachable work table incorporated into the transit case
Data and video download software and splicer upgrade software included; software upgrades through PC application via the internet
Green friendly RoHS & WEEE compliant
Technical Speciications
Applicable Fibers
Single-mode (ITU-T G.652), multimode (ITU-T G.651), DS (ITU -T G.653), NZDS (ITU-T G.655)
Cladding Diameter
80 μm to150 μm
Coating Diameter
100 μm to 1,000 μm
Fiber Cleave Length
8 to 16 mm with 250 μm coating diameter, 16 mm with 900 μm coating diameter
Typical Average Splice Loss
0.02 dB with Sm, 0.01 dB with mm, 0.04 dB with DS, 0.04 dB with NZDS
measured by cut-back method relevant to ITU-T and IEC standards
Splicing Time
Typical 9 seconds with standard single-mode fiber
Arc Calibration method
Automatic, real-time and by using results of previous splice when in AUTO mode, manual arc calibration function available
Splicing Modes
100 preset and user programmable modes
Splice Loss Estimate
Based upon dual camera core alignment data
Storage of Splice Results
Last 2000 results to be stored in the internal memory
Fiber Display
X or Y, or both X and Y simultaneously. Front or rear monitor display options with automated image orientation
Magnification
300X for single X or Y view, or 187X for X and Y view
Viewing method
Dual cameras with 4.1 inch TFT color LCD monitor
Operating Conditions
0 to 5,000 m above sea level, 0 to 95 % RH and -10 to 50 °C respectively
Mechanical Proof Test
1.96 to 2.25N
Tube Heater
Built-in tube heater with 30 heating modes; auto-start function
Tube Heating Time
Typical 30 seconds with FP-03 sleeve, 35 seconds with FP3 (40), 35-55 seconds with Fujikura micro sleeves
Protection Sleeve Length
60mm, 40mm, micro
Splice/Heat Cycles with Battery
Typical 160 cycles with power save functions activated
Power Supply
Auto voltage selection from 100 to 240V AC or 10 to 15V DC with ADC-11, 13.2V DC with BTR-08 battery
Terminals
USB 1.1 (USB-B type) for PC communication. mini-DIN (6-pin) for HJS-02/03 and SH-8 tube heater
Wind Protection
maximum wind velocity of 15m/s. (34 mph)
Dimensions (W × D × H )
136 × 161 × 143 mm
5.3 × 6.3 × 5.6 inches
Weight
2.3 kg (5.1 lbs) with AC adapter ADC-11;
2.7 kg (5.9 lbs) with BTR-08 battery
Video Review
Manuals
Download Fusion Splicer Fujikura FSM-60S Manuals.
Package Contents
Fujikura FSM-60S Fusion Splicer Unit (1 pc.)
Spare electrodes ELCT2-20A (4 pcs.)
Splice Sleeve Cooling Tray JP-05 (1 pc.)
Power adapter ADC-11 (1 pc.)
Power cord ACC-15 (1 pc.)
Detachable Battery BTR-08 (1 pc.)
Battery charge cord (1 pc.)
USB cable USB-01 (1 pc.)
User manual (1 pc.)
CD with FSM Data Connection Software and Video Instruction Manual (1 pc.)
Power cord for external battery connection (with crocodile clips) DCC-13, or power cord for connection to a car cigarette lighter DCC-12 (1 pc.)
Warranty service coupon (1 pc.)
Carrying case CC-24-18S (1 pc.)
Carrying belt (1 pc.)
More Information
Fujikura Fiber Optic Fusion Splicers
Customers, interested in this product, also viewed
Fusion Splicer Fujikura FSM-60S "Kit-A" Plus