Fusion Splicer Ilsintech Swift F1
No results found for your request.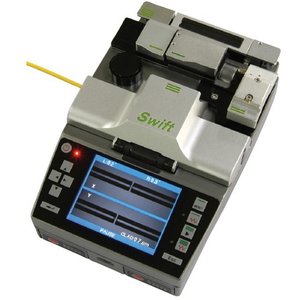 Add to comparison
Compare
ID: 836601
8 kg
110, 220 V
Availability in stock:
HK
EU
CN
UA
Overview
Ilsintech Swift F1 Fusion Splicer is a fully-functional fiber splicing complex, comprising all the needed tools for working with optic fiber in one device.
Features
Fixed V-groove alignment.
SM, MM, DS, NZDS fiber splicing.
Fusion Splicer, Thermal Stripper, Fiber Optic Cleaver, Tube Heater.
Splicing and heating time 7 sec for fusion splicing, 20 sec for sleeves heating.
USB, RCA interfaces.
User comfort.
Technical Specifications
Splicing
Alignment
Fixed V-Groove (Clad to Clad)
Applicable Fibers
SM, MM, DS, NZDS
Cladding Diameter
125 µm
Coating Diameter
250 µm – 900 µm
Fiber Cleave Length
26 – 40 mm
Typical Average Splice Loss
SM: 0.03 dB, MM: 0.02 dB, DS: 0.06 dB, NZDS: 0.06 dB
Splicing and heating time (typical)
7 sec - fusion splicing,
20 sec for sleeves heating (fiber 0.9 mm),
70 sec (fiber 3.0 mm)
Protection Sleeves
30 mm (for fiber0.9 mm),
40 mm (in-plant cable 2.0, 3.0 mm)
Internal Memory
up to 2000 results
Thermal Stripper
Fiber Parameters
fiber diameter 125 µm,
coating diameter 250 µm and 900 µm
Fiber Cleave Length
up to 28 mm
Heating Time
1 – 15 sec
Heating temperature range
from +60 to +150°C
Stripping Effort
4 kgs
Fiber Optic Cleaver
Fiber parameters
fiber diameter 125 µm,
coating diameter 250 µm and 900 µm
Cleave Length
7.5 mm
Blade lifetime
48 000
Tube Heater
Applicable Cable Diameter
for fiber: 250 µm and 900 µm,
for in-plant cable: 2.0 mm – 3.0 mm
Sleeves Length
32 mm (standard)
Heating Time
20 – 35 sec
Heating temperature range
from +130 to +200°C
General Characteristics
Tension test
1.96 N
Operation Conditions
from –10 to +50°C, at RH up to 95%
Storage Conditions
from –40 to +80°C, at RH up to 95%
Interface
USB, RCA, ext. power
Power Supply
lithium-polymer battery / power adapter ~100-240 V
Battery
1400 mA/h, 2 pcs.
Battery splice/heat cycles
120 cycles (for 0.9 mm fiber)
Dimensions & Weight
W
135 mm
D
200 mm
H
82 mm
Weight
1.5 kg (with battery)
Video
Package Contents
Fusion Splicer (1 pc.)
AC Adaptor (1 pc.)
Battery Charger (1 pc.)
Battery Pack (2 pc.)
Fibre Holder (1 set)
Spare Electrodes (2 pc.)
Cooling Tray (1 pc.)
Carrying Case (1 pc.)
Manual / CD (1 pc.)