Programmable SMT Rework System BOKAR Focus "X"
No results found for your request.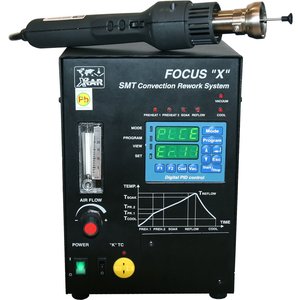 Add to comparison
Compare
Availability in stock:
HK
EU
CN
UA
Overview
BOKAR FOCUS "X" - soldering station with a holder to keep the component after its replacement.

On the front panel there are air flow regulator and indicator. Digital display indicates set point and actual temperature values. All the parameters can be set by the keyboard that is also on the front panel.

The system has several unique features, which make the rework operations safer, faster and more precise, saving user's time and efforts.

FOCUS "X", the cutting edge of the industry, offers total process control and the best performance among convection rework/repair toos

Rework of any component using FOCUS "X" is not a hard challenge but an easy, routine repair/service task without worries that an operator who is new to the job or not very careful, will damage the board during the rework process.

This is the only system in its class that can pre-program both top and bottom heating areas individually.

FOCUS "X" Digital SMT Convection Rework System has been designed to perform safe and efficient rework of SMD and BGA components.

Microprocessor Profile Controller allows the operator to select or pre-program the appropriate removal or placement profile and start the rework procedure. Removal and placement profiles can be stored, run and edited by pressing a button to guarantee process control. The profiles can be locked to eliminate any operator's changes. Programming is user friendly and can be learned within several minutes.

FOCUS "X" offers 3 operational modes: Lift Mode with 1 pre-programmed removal profile and 40 user programmable profiles, Placement Mode with 1 pre-programmed profile and 40 user programmable profiles and Hand Mode with pre-programmed maximum temperature and 40 user programmable pre-set maximum temperatures.

Lift and Place Modes offer five (5) time/temperature zone control and also pre-programming of temperature settings of the bottom pre-heater in each of the 5 zones.

 

XFS-1
Foot Switch

XT-1
Vacuum Cup
placement/removal tool

XVCS-5 Vacuum Cup Set

XK-TC30/36
"K" Type Thermocouple

XNR-2
Hot Nozzle Handling Cup

FEATURES

Simple and cost effective nozzle design allows to rerun the original assembly reflow profile.
Quick connection (twist and lock method) to attach and detach the nozzles.

Ergonomically designed, ESD Safe and detachable for maintenance or replacement hand piece with the following advantages:

Heater and vacuum ON-OFF switches. Heater switch either stops or pauses the cycle. Both options can be pre-programmed from the front panel keyboard.
Vacuum tube positioning with operator's fingertips.
Angled top to reduce cable pull during hand held operations.

Vacuum pick-up tube and pads to lift-off the component at the end of reflow cycle.
Ability to store forty one (1 factory set and 40 user programmable) profiles in each mode.
Operator controlled (Hand) Mode with programmable maximum temperature.
3 modes of operations: Lift Mode, Placement Mode and Hand Mode. Each mode has one pre-programmed profile and 40 user-programmable profiles.
5 time/temperature zones for each profile PREHEAT 1, PREHEAT 2, SOAK, REFLOW and COOL DOWN + possibility to pre-program bottom pre-heat temperature in each zone.
Foot Switch-activated Cycle Advance, to override pre-programmed zone timing.
Operator's selection of temperature scale (Celsius or Fahrenheit).
Locking option to protect against unauthorized parameter change.
User accessible offset adjustment for a particular nozzle to ensure extra precision of hot air temperature at the end of selected nozzle. The offset is saved individually for every profile .
The unit was designed to offer the best price/performance ratio in the industry for the system capable to perform sophisticated rework.
"K" TC input from external thermocouple for temperature measurements allows the user to perform temperature verification at any time during the rework process.
Auto Lift trigger connector to activate XK-AL Series tool holders with Auto Lift Mechanism, which lifts the component automatically at the end of reflow cycle.
TECHNICAL PARAMETRS
Input Voltage

220-240V

Power Consumption 

750 W

Heater Consumption 

710 W

Heater Control

PID, closed-loop thermocouple sensor feedback

Fuse

5A for 220-240V Slow-Blow 5mm x 20mm

Temperature

70 - 450°C

Air Flow 

3 ~ 20 l/min

Vacuum source

Diaphragm pump

Vacuum

200 mmHg

System dimensions
(L x W x H)

220 x 150 x 220 mm

Weight

12kg
Package includes:
FOCUS "X" – BOKAR FOCUS "X" - 1pcs.
XHT-15 – Hot Air Tool – 1 pcs.
XTH-2 – Tool Holder for XHT Series - 1pcs.
XQF – Quick Connector for easy attachment of nozzles - 1pcs.
XVCS-5 - Vacuum Cup Set (vacuum cups, 3 sizes) - 5 pcs.
XT-1 - Vacuum Cup placement/removal tool - 1pcs.
XNR-2 - Hot Nozzle Handling Cup - 1pcs.
XFS-1 – Foot Switch – 1 pcs.
XK-TC30/36 - "K" Type Thermocouple – 1 pcs.
Specifications
| | |
| --- | --- |
| Design type | |
| Hot Air Gun Power | |
| Soldering Iron Power | |
| Pump type | |
| Desoldering Gun | |
| Desoldering Pump | |
| Power Supply | |
| Vacuum pick-up tool | |