Smartphones Repair Set
No results found for your request.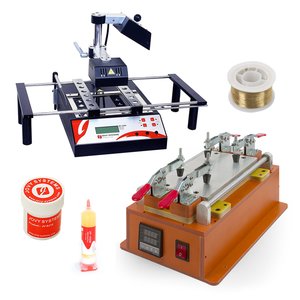 Add to comparison
Compare
Availability in stock:
HK
EU
CN
UA
Overview
Cell Phone Repair Equipment Set includes an infrared BGA rework station, an LCD separator machine, as well as a gel flux and a solder paste and a glass separator wire. The kit is helpful for electronics repair engineers, technicians, and for cell phone service centers.
Jovy Systems BGA reballing system, SM-252 touch screen glass separator machine and consumables in one kit facilitate the process of smart phone and tablet repair. This combination of soldering means and a separator machine may satisfies the needs to conduct cell phone microchips rework and broken LCD glass separation.
Applications
Repairing cell phone ICs
Separating the LCD touch screen glass module of modern smartphones:

Apple iPhone 5, iPhone 5C, iPhone 5S;
Samsung I8910 Omnia HD, I9100 Galaxy S2, I9103 Galaxy R, I9105 Galaxy S2 Plus, I9220 Galaxy Note, I9300 Galaxy S3, I9305 Galaxy S3, I9500 Galaxy S4, I9505 Galaxy S4, N7000 Note, N7005 Note, N7100 Note 2, N7105 Note 2

Separating the broken display/touchscreen assemblies of tablet PCs
Repairing tablet microchips
BGA reballing & repairing
Video adapter repiring
Flat cable repair
Package Contents
1. Jovy Systems RE-7550 is a powerful rework station which is using dark medium infrared technology for lead free PCB component soldering and desoldering. Interfaces through USB with RE Jovy Soft, PC software that helps monitor the rework process.
2. Jovy Systems JV-F030 is a BGA gel flux with resin-like rheological properties. Excellent solderabillity, with minimal residue, and no need for cleaning.
3. Jovy Systems JV-SJ10 is a paste for BGA ICs soldering (10 ml), containing powder and flux with excellent chemical stability.
4. SM-252 is a screen glass separator machine which is designed for professional use. Recommended for use with Apple iPhone, Samsung, HTC (for LCDs up to 7").
5. Glass Separator Wire is a molybdenum LCD/touchscreen separation wire which is used to separate display/touchscreen assemblies of mobile devices.
Video
Jovy Systems RE-7550 Infrared BGA Rework Station
SM-252 LCD Touch Screen Glass Separator Machine