Arbitrary Waveform / Function Generator Rigol DG1022
No results found for your request.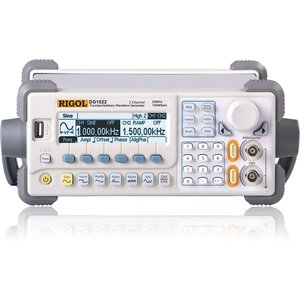 Add to comparison
Compare
ID: 815690
8 kg
110, 220 V
Availability in stock:
HK
EU
CN
UA
Overview
Rigol DG1022 arbitrary waveform / function generator adopts DDS technology which provides stable, high-precision, pure and low distortion sine signals. Rigol DG1022 can generate 5 MHz square waveform with fast rising and falling edges. The excellent system features, user friendliness and versatile functions combination makes this arbitrary waveform / function generator a perfect solution for IC, serial bus and in-circuit function tests, simulation of sensors and natural environment signals. Rigol DG1022 dual channel arbitrary waveform / function generator has an intuitive user interface and simple front panel layout and instructions. Versatile terminals, direct graph interface, built-in instructions and help system have hugely simplified the operation process, therefore the users do not have to spend much time learning before they can use the generator proficiently. Built-in AM, FM, PM and FSK modulating functions generate modulated waveforms without the assistance of a separate modulating source.
Rigol DG1022 Arbitrary Waveform / Function Generator User Manuals
Download Rigol DG1022 arbitrary waveform / function generator user manual
Download additional information about Rigol DG1022 arbitrary waveform / function generator
Rigol DG1022 Arbitrary Waveform / Function Generator Features
DDS technology: output signals become more accurate and stable with lower distortion
2 channel output
5 standard waveforms and 48 stored arbitrary waveforms

Sine

Pulse

Square
Ramp
Noise

48 stored arbitrary waveforms

100 MSa/s of sample rate, 14 bits of vertical resolution, 4k points of memory depth
Versatile modulation and variety of waveforms

AM
FM
PM
FSK

Sweep

Burst

Versatile input and output: external modulation source, external clock reference (10 MHz), external trigger input, waveforms output, synchronous signal output
High accuracy and wide band width frequency counter range up to 200 MHz
USB Host to support USB disk storage
Seamless connectivity with DS series digital oscilloscopes: lossless recurrence of stored waveforms obtained from DS
Multi-language user interface, built-in help system

Rigol DG1022 Arbitrary Waveform / Function Generator Technical Specifications
Standard waveforms
Waveforms
Sine, Square, Ramp, Pluse, Noise
and 48 stored arbitrary waveforms
Sine
1 μHz to 20 MHz
Square
1 μHz to 5 MHz
Pulse
500 μHz to 3 MHz
Ramp
1 μHz to 150 kHz
Arb
1 μHz to 5 MHz
White noise
5 MHz (-3 db)
Resolution
1 μHz
Sine wave spectral purity
Harmonic distortion
DC
< 1 Vpp
> 1 Vpp
to 20 kHz
-70 dBc
-70 dBc
20 kHz to 100 kHz
-70 dBc
-60 dBc
100 kHz to 1 MHz
-55 dBc
-50 dBc
1 MHz to 10 MHz
-40 dBc
-35 dBc
Total harmonic distorion
to 20 kHz
1Vpp >0.2%
Spurious (non-harmonic)
DC to 1 MHz
< -70 dBc
1 MHz to 10 MHz
< -70 dBc + 6 dB/octave
Phase noise
10 kHz Offset
–108 dBc / Hz, typical
Square wave characteristic
Rise/fall time
< 20 ns (10% to 90%)
Overshoot
< 5%
Duty cycle
1 μHz (include) ∼ 3 MHz (include)
20% to 80%
3 MHz (non-include) ∼ 4 MHz (include)
40% to 60%
4 MHz (non-include) ∼ 5 MHz (include)
50%
Asymmetry (below 50% of the duty cycle)
1% of the period + 20 ns
Jitter
6 ns + 0.1% of the period
Pulse wave characteristics
Pulse bandwidth
2000 s max, 20 ns min,1 ns min resolution
Overshoot
< 5%
Jitter
6 ns + 100 ppm of the period
Arbitrary wave characteristics
 
CH1
CH2
Waveform length
2 to 4k points
2 to 1k points
Amplitude accuracy
14 bits (including sign)
10 bits (including sign)
Sample rate
100 Msa/s
Minimum rising /falling time
35 ns
Jitter (RMS)
6 ns + 30 ppm
Non-volatile storage
10 waveforms
Output characteristics
Amplitude
2 mVPP to 10 VPP (50 Ω)
4 mVPP to 20 VPP (High Z)
2 mVPP to 3 VPP (50 Ω)
4 mVPP to 6 VPP (High Z)
Amplitude accuracy
(1 kHz)
± 1% of setting + 1 mVPP
Amplitude flatness (sine wave relative to 100 kHz)
<100 kHz 0.1 dB
100 kHz ∼ 5 MHz 0.15 dB
5 MHz ∼ 20 MHz 0.3 dB
DC offset
Range
(peak AC + DC)
±5 V (50 Ω)
±10 V (High Z)
Accuracy
±( 2% of the offset setting ± 0.5% (| V offset |) of the Amplitude ± 2 mV)
AM modulation (CH1)
Carrier waveforms
Sine, Square, Ramp, Arb
Source
Internal/ external
Modulating waveforms
Sine, Square, Ramp, Noise, Arb (2 mHz to 20 kHz)
Depth
0% to 120%
FM modulation (CH1)
Carrier waveforms
Sine, Square, Ramp, Arb
Source
Internal/ external
Modulating waveforms
Sine, Square, Ramp, Noise, Arb (2 mHz to 20 kHz)
Frequency deviation
DC ∼ 5 MHz
PM modulation (CH1)
Carrier waveforms
Sine, Square, Ramp, Arb
Source
Internal/ external
Modulating waveforms
Sine, Square, Ramp, Noise, Arb (2 mHz to 20 kHz)
Phase deviation
0 ∼ 360°
FSK modulation (CH1)
Carrier waveforms
Sine, Square, Ramp, Arb
Source
Internal/ external
Modulating waveforms
50% duty cycle square (2 mHz to 50 kHz)
Sweep (CH1)
Carrier waveforms
Sine, Square, Ramp, Arb
Type
Linear or logarithmic
Direction
Up or down
Sweep time
1 ms ∼ 500 s ± 0.1%
Source
Internal/ external/ manual
Burst (CH1)
Waveforms
Sine, Square, Ramp, Pulse, Noise, Arb
Types
Count (1 to 50,000 periods), infinite, gated
Start phase
-180° to +180°
Internal period
1 μs to 500 s ± 1%
Gate source
External trigger
Trigger source
Internal/ external/ manual
Counter specification
Function
Frequency, period, positive/negative pulse width, duty cycle
Frequency range
Single channel: 100 mHz ∼ 200 MHz
Frequency resolution
6 bits/s
Trigger mode
Trigger level range: ±3 V (0.1% ∼ 100%)
Resolution: 6 mV
Display
256 horizontal × 64 vertical
Power
100 to 240 V AC RMS, 45 to 440 Hz, CAT II,
Less than 40 VA
Dimentions, mm
232 × 108 × 288
Weight
2.7 kg
Package Contents
Waveform generator Rigol DG1022
Power cord

Calibration form, packing list, warranty card and quick guide

Rigol DG1022 Arbitrary Waveform / Function Generator Optional Accessories (are not Included in Package)
USB cable

40 dB attenuator

BNC cable

50 Ω impedance adjuster

Instrument bag

Specifications
| | |
| --- | --- |
| Channels | |
| Max. signal frequency | |
Customers, interested in this product, also viewed