Arbitrary Waveform / Function Generator Rigol DG5352
No results found for your request.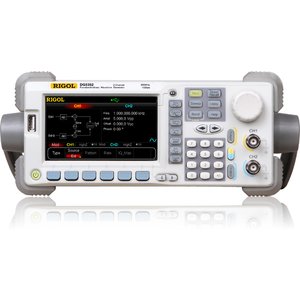 Add to comparison
Compare
ID: 828822
4 kg
110, 220 V
Availability in stock:
HK
EU
CN
UA
Overview
Rigol DG5352 arbitrary waveform / function generator adopts DDS technology which provides stable, high-precision, pure and low distortion signals. The excellent system features, user friendliness and versatile functions combination makes this arbitrary waveform / function generator a perfect solution for IC, serial bus and in-circuit function tests, simulation of sensors and natural environment signals. Rigol DG5352 dual channel arbitrary waveform / function generator has an intuitive user interface and simple front panel layout and instructions. Versatile terminals, direct graph interface, built-in instructions and help system have hugely simplified the operation process, therefore the users do not have to spend much time learning before they can use the generator proficiently.
Rigol DG5352 Arbitrary Waveform / Function Generator User Manuals
Download Rigol DG5352 arbitrary waveform / function generator user manual
Download additional information about Rigol DG5352 arbitrary waveform / function generator
Download programming guide for Rigol DG5352 arbitrary waveform / function generator
Download quick guide for Rigol DG5352 arbitrary waveform / function generator
Rigol DG5352 Arbitrary Waveform / Function Generator Features
4.3″, 16M true color TFT LCD
350 MHz maximum sine output frequency
1 GSa/s sample rate
14 bits resolution
Optional 16+2 channels digital output module, external power amplifier and frequency hopping support

DDS technology: output signals become more accurate and stable with lower distortion
14 standard waveform functions

Sine
Pulse
Square
Ramp
Noise
Sinc
Exponential rise
Exponential fall
ECG
Gauss
Haversine
Lorentz
Dual tones
DC

Arbitrary waveform editing

Versatile modulation modes

AM

FM
PM
FSK

ASK
PSK
PWM

Sweep

Burst

User-defined IQ vector signal modulation and IQ baseband/IF source output support







Versatile input and output: external modulation source, clock input/output (10 MHz), trigger input/output, waveforms output, synchronous signal output
1 GB flash memory
Double USB hosts, USB device, LAN, and GPIB (IEEE-488.2)
USB flash device storage for FAT files
PictBridge printer and remote control through 10/100M Ethernet web support
LXI-C instrument standards (Version 1.2) compliant
Waveform editing PC software
Rigol DG5352 Arbitrary Waveform / Function Generator Technical Specifications
Model
DG5352
DG5351
DG5252
DG5251
DG5102
DG5101
Number of channels
2
1
2
1
2
1
Maximum frequency
350 MHz
250 MHz
100 MHz
Sample rate
1 GSa/s
Standard waveforms
Waveforms
Sine, Square, Ramp, Pulse, Noise
Sinc, Exponential Rise, Exponential Fall, ECG, Gauss, HaverSine, Lorentz, Dual-Tone, DC
Sine
1 μHz to 350 MHz
1 μHz to 250 MHz
1 μHz to 100 MHz
Square
1 μHz to 120 MHz
1 μHz to 100 MHz
Pulse
1 μHz to 50 MHz
Ramp
1 μHz to 5 kHz
1 μHz to 3 MHz
Arb
1 μHz to 50 MHz
White noise
250 MHz
100 MHz
Resolution
1 μHz
Sine wave spectral purity
Harmonic distortion
Typical (0 dBm)
<100 MHz: ≤−45 dBc
<100 MHz: ≤−35 dBc
–
Total harmonic distortion
<0.5% (10 Hz to 20 kHz, 0 dBm)
Spurious (non-harmonic)
Typical (0 dBm)
<100 MHz: ≤−50 dBc
<100MHz: −50 dBc + 6dBc/octave
–
Phase noise
Typical (0 dBm, 10 kHz deviation)
10 MHz: <-110 dBc
Square wave characteristic
Rise/fall time
Typical value ( 1 Vpp)
<2.5 ns
< 3 ns
Overshoot
<5%
Duty cycle
≤10 MHz: 20% to 80%
10 MHz to 40 MHz: 40% to 60%
>40 MHz: 50% (fixed)
Asymmetry
1% of the period + 5 ns
Jitter (rms)
≤30 MHz: 10 ppm + 500 ps
>30 MHz: 500 ps
Ramp wave characteristics
Linearity
≤0.5% of peak output
Symmetry
0% to 100%
Pulse wave characteristics
Period
20 ns to 1,000,000 ns
Pulse width
4 ns to 1,000,000 ns
Variable edge time
2.5 ns to 1 ms
Overshoot
<5%
Jitter (rms)
10 ppm + 500 ps
Arbitrary wave characteristics
Waveform length
2 to 128M points
Amplitude accuracy
14 bits
Sample rate
from 2 to 16k points memory length: 1 GSa/s (fixed)
from 16k to 128M points memory length: ≤1 GSa/s (variable)
Minimum rising /falling time
≤3 ns
Jitter (RMS)
3 ns
Mode
internal, play
Interpolation method
close, linear, spline
Edit method
edit point, edit block
Non-volatile storage
1 GB
Output characteristics
Flatness (typical: sine, 1.25 Vpp, 50 Ω)
≤10 MHz: ±0.1 dB
10 MHz to 60 MHz: ±0.2 dB
60 MHz to 100 MHz: ±0.4 dB
100 MHz to 250 MHz: ±1.0 dB
–
>250 MHz: ±1.5 dB
–
Range
≤100 MHz: 5 mVpp to 10 Vpp
≤300 MHz: 5 mVpp to 5 Vpp
–
≤350 MHz: 5 mVpp to 2 Vpp
–
Amplitude accuracy
(1 kHz)
± 1% of setting + 1 mVPP
Resolution
0.1 mV or 4 digits
DC offset
Range
(peak AC + DC)
±5 Vp
Accuracy
1% of setting + 5 mV + 0.5% of the amplitude
Waveform output
Impedance
50 Ω (typical)
Protection
over-temperature protected, short-circuit protected, overload relay automatically disables main output
AM modulation
Carrier waveforms
Sine, Square, Ramp, Arb (except for DC)
Source
internal/ external
Modulating waveforms
Sine, Square, Ramp, Noise, Arb (2 mHz to 50 kHz)
Depth
0% to 120%
FM modulation
Carrier waveforms
Sine, Square, Ramp, Arb (except for DC)
Source
internal/ external
Modulating waveforms
Sine, Square, Ramp, Noise, Arb (2 mHz to 50 kHz)
PM modulation
Carrier waveforms
Sine, Square, Ramp, Arb (except for DC)
Source
internal/ external
Modulating waveforms
Sine, Square, Ramp, Noise, Arb (2 mHz to 50 kHz)
Phase deviation
0 ∼ 360°
ASK modulation
Carrier waveforms
Sine, Square, Ramp, Arb (except for DC)
Source
internal/ external
Modulating waveforms
square with 50% duty cycle (2 mHz to 1 MHz)
FSK modulation
Carrier waveforms
Sine, Square, Ramp, Arb (except for DC)
Source
internal/ external
Modulating waveforms
square with 50% duty cycle (2 mHz to 1 MHz)
PSK modulation
Carrier waveforms
Sine, Square, Ramp, Arb (except for DC)
Source
internal/ external
Modulating waveforms
square with 50% duty cycle (2 mHz to 1 MHz)
PWM modulation
Carrier waveforms
Pulse
Source
internal/ external
Modulating waveforms
square with 50% duty cycle (2 mHz to 1 MHz)
IQ modulation
Carrier waveform
Sine (max. 200 MHz)
Sine (max. 100 MHz)
Source
internal/ external
Code pattern
PN sequence, 4 bit code pattern, user
IQ mapping
4QAM, 8QAM, 16QAM, 32QAM, 64QAM, BPSK, QPSK, OQPSK, 8PSK, 16PSK, user
Code rate
1 bps to 1 Mbps
Sweep
Carrier waveforms
Sine, Square, Ramp, Arb
Type
linear, logarithmic, step
Direction
up or down
Sweep time
1 ms to 300 s
Hold/return time
0 ms to 300 s
Source
internal/ external/ manual
Start/stop frequency
1 μHz to 250 MHz
1 μHz to 100 MHz
Burst
Waveforms
Sine, Square, Ramp, Pulse, Noise, Arb (except for DC)
Burst count
1 to 1,000,000 periods or infinite
Start phase
0° to +360°
Internal period
2 μs to 500 s
Gate source
external trigger
Trigger source
internal/ external/ manual
Trigger delay
0 ns to 85 s
Trigger output
Level
TTL-compatible
Pulse width
>60 ns
Maximum rate
1 MHz
Clock reference
Phase offset range
0° to +360°
Resolution
0.001°
Sync output
Level
TTL-compatible
Impedance
50 Ω, nominal
External reference input
Lock range
10 MHz ± 50 Hz
Level
632 mVpp (0 dBm), nominal value
Lock time
<2 s
Internal reference output
Frequency
10 MHz
Level
632 mVpp (0 dBm), nominal value
General specifications
Interfaces
USB host (×2), USB device, GPIB, LAN
IP protection
IP2X
Display
4.3″ TFT LCD
Power
100 to 240 V AC RMS, 45 to 440 Hz

Power consumption
< 125 W
Dimensions, mm
230 × 106 × 501
Weight
4.3 kg
Rigol DG5352 Arbitrary Waveform / Function Generator Package
Waveform generator Rigol DG5352
Power cord
USB cable
BNC cable
SMB(F)-BNC(M) cable
Specifications
Channels

expandable up to 16 digital channels
dual channel

Max. signal frequency