Automotive Diagnostics Oscilloscope Set Hantek DSO3064 Kit VII
No results found for your request.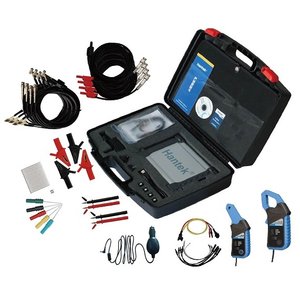 Add to comparison
Compare
Availability in stock:
HK
EU
CN
UA
Overview
Hantek DSO3064 Kit VII is a automotive digital oscilloscope with a set of diagnostics tools.
Oscilloscope Features
4 Channels and EXT trigger.
60 MHz Bandwidth.
200 MS/s real-time sampling rate.
10k-16M memory depth per Channel.
Frequency Counter.
FFT spectrum analysis.
8--36V range of input voltage, suitable for vehicle power test.
USB 2.0 interface plug and play, LAN optional.
More than 20 kinds of automatic measurement and PASS/FAIL check function, which is suitable for engineering application.
Excellent industrial design, interfaces are similar to desktop oscilloscopes.
Software support: Windows NT, Windows 2000, Windows XP, Windows VISTA, Windows 7, Windows 8.
Supply DEMO code (VC,VB,LABVIEW) and technical support.
Technical Specifications
Hantek DSO3064 Vertical System
Analog Channels
4
Bandwidth
60 MHz (-3dB)
Rise Time
5.8ns
Input Impedance
Resistance: 1MΩ ; Capacitance: 25 pF
Input Sensitivity
10 mV/div to 5 V/div
Input Coupling
AC/DC/GND
Vertical Resolution
8 bits
Memory Depth
10 KB - 16 MB/CH
Maximum Input
400V (DC+AC Peak)
Hantek DSO3064 Horizontal System
Real-Time Sampling Rate
200 MS/s
Time Base Range
5 ns/div to 1000 s/div (1-2-5 sequences)
Time Base Precision
±50 ppm
Trigger System
Source
CH1, CH2, CH3, CH4, EXT
Mode
Edge, Pulse, Video, Alternative
Voltage Measurement
Vpp, Vamp, Vmax, Vmin, Vtop, Vmid, Vbase, Vavg, Vrms, Vcrms, Preshoot, Overshoot, Frequency, Period, Rise Time, Fall Time, Positive Width, Negative Width, Duty Cycle
Cursor Measurements
Horizontal ,Vertical, Track, Auto Measure Modes
Waveform Signal Processing
+,- , x,÷, FFT, Invert
FFT
Rectangular, Hanning, Hamming, Blackman Window
General Specifications
Interface
USB 2.0 (LAN Optional)
Power Source
8-36 V
Size
255 x 190 x 45 mm
Weight
1 kg
Package Contents
Hantek DSO3064 Digital Oscilloscope – 1 pc.
Hantek PP-80 Oscilloscope Probe – 1 pc.
Hantek HT30A Auto Test Cable – 4 pcs.
Hantek HT25 Auto High-pressure Ignition Probe – 4 pcs.
Hantek HT201 20:1 Attenuator – 4 pcs.
Hantek HT18A Large Dolphin/Gator Clip – 4 pcs.
Hantek HT19 Multimeter Probe – 4 pcs.
Hantek HT307 Acupuncture Probe Set – 1 pc.
Hantek HT308 Coil-on-Plug Extension Cord (with grounding cord) – 4 pcs.
Hantek HT310 Auto Power Adapter – 1 pc.
Hantek CC-65A AC/DC Current Clamp – 1 pc.
Hantek CC-650A AC/DC Current Clamp – 1 pc.
Hantek HT301 Break Out Leads – 1 pc.
Specifications
| | |
| --- | --- |
| Type | |
| Number of channels | |
| Bandwidth | |
| Sample Rate | |
| Storage Capacity | |
Automotive Diagnostics Oscilloscope Set Hantek DSO3064 Kit VII