Digital Multimeter Pro'sKit 3PK-345
No results found for your request.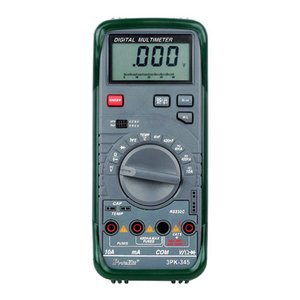 Add to comparison
Compare
Availability in stock:
HK
EU
CN
UA
Overview
Digital multimeter measures AC/DC voltage and current, resistance, capacitance, temperature, and tests continuity, diodes and transistors. Multimeter comes with USB connector for monitoring and recording measuring data on PC.
Pro'sKit 3PK-345 Digital Multimeter Features
Large 3¾ digit (3999) LCD with analog bargraph
0.8% best accuracy
USB connector for PC
Functions:

AC/DC voltage and current
resistance
capacitance
continuity (with buzzer)
diode test
temperature
transistor test

Backlight
Data hold function
Auto/Manual ranging
Auto power off
Low battery indication
Video
Pro'sKit Digital Multimeter Comparative Specifications
Model
3PK-345
MT-1820
MT-1860
Display
3¾ digit (3999) LCD
3 5/6 digit (5999) LCD
DC  voltage, V
4V/40V/400V ±(0.5%+3d)
1000V ±(0.8%+3d)
600mV/6V/60V/600V ±(0.5%+4d)
1000V ±(1.0%+6d)
600mV/6V/60V/600V ±(0.5%+4d)
1000V ±(1.0%+4d)
AC voltage, V
4V/40V/400V ±(1.2%+5d)
750V ±(1.5%+5d)
6V/60V/600V ±(0.8%+10d)
750V ±(1.0%+10d)
6V/60V/600V ±(0.8%+10d)
750V ±(1.0%+6d)
DC current, A
4mA/400mA ±(1.2%+3d)
10A ±(2.0%+8d)
600μA/6000μA ±(1.0%+10d)
60mA/600mA ±(1.0%+10d)
6A/10A ±(1.2%+10d)
60mA/600mA ±(1.0%+10d)
6A/10A ±(1.2%+10d)
AC current, A
4mA/400mA ±(1.5%+8d)
10A ±(3.0%+8d)
600μA/6000μA ±(1.5%+10d)
60mA/600mA ±(1.5%+10d)
6A/10A ±(2.0%+15d)
60mA/600mA ±(1.5%+10d)
6A/10A ±(2.5%+15d)
Resistance, Ω
400Ω/4kΩ/40kΩ/400kΩ/4MΩ ±(1.2%+3d)
40MΩ ±(3.0%+5d)
600Ω ±(0.8%+5d)
6kΩ/60kΩ/600kΩ/6MΩ ±(0.8%+4d)
60MΩ ±(1.2%+10d)
Special Function
transistor test
key touching
Frequency, Hz
-
100Hz/1000Hz/10kHz/
/100kHz/1MHz/20MHz ±(0.5%+4d)
10Hz/100Hz/1000Hz/10kHz/
/100kHz/1MHz/20MHz ±(0.3%+2d)
Capacitance, F
40nF/400nF ±(4.0%+5d)
40nF ±(5.0%+30d)
400nF/4μF/40μF ±(3.5%+8d)
200μF ±(5.0%+10d)
Temperature, ºC
0~400ºC ±(3.0%+3d)
400~750ºC ±(3.0%+5d)
-20~400ºC ±(1.0%+5d)
400~1000ºC ±(1.5%+15d)
Battery
6F22(9V) (not included)
AAA 1.5V × 2 (not included)
Size (D × W × H), mm
186 × 78 × 35
192 × 95 × 48
185 × 91 × 49
Weight, g
910
390 (including batteries)
410 (including batteries)
Specifications
| | |
| --- | --- |
| Type | |
| Digit Capacity | |
| Range Selection | |
| DC Voltage | |
| AC Voltage | |
| DC | |
| AC | |
| Resistance | |
| Capacitance | |
| Frequency | does not measure the frequency |
| Duty cycle | |
| Temperature | |
| Inductance | |
| Power | |
| True RMS | |
| Backlight | |
| Analog bar graph | |
| Continuity test | |
| Transistor check | |
| Diode test | |
| PC connection | |
Customers, interested in this product, also viewed