Digital Oscilloscope RIGOL DS1022CD
No results found for your request.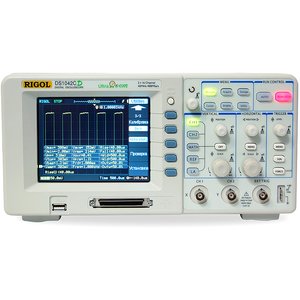 Add to comparison
Compare
ID: 810629
4.6 kg
110, 220 V
Availability in stock:
HK
EU
CN
UA
Overview
RIGOL DS1022CD digital oscilloscope provides exceptionally accurate waveform viewing and measurements in a compact, lightweight package. RIGOL DS1022CD is ideal for production tests, field service, research, design and all other applications involving analog/digital circuits test and troubleshooting, as well as education and training.
RIGOL DS1022CD Digital Oscilloscope Features
Ultra compact design, small dimensions
Bandwidth: 25 MHz
Dual channels
Real-time sample rate: 400 MSa/s maximum
Equivalent time sample rate: 25 GSa/s maximum
Memory depth: 1 M points (Single Channel), 512 K points (Dual Channels)
20 automatic measurements
Versatile trigger modes: Edge, Pulse, Slope, Video, Alternate, Pattern and Duration
Adjustable trigger sensitivity
10 waveforms, 10 setups, BMP and CSV storage
Math functions: Add, Subtract, Multiply, FFT
Automatic self calibration
Special digital filter and waveform recorder
Built-in hardware frequency counter
5.7' color LCD
Standard interface: USB Device, RS-232; USB Host, to support USB flash memory and USB printer
Multi-language user interface, built-in help system
RIGOL DS1022CD Digital Oscilloscope User Manual
Download RIGOL DS1022CD digital oscilloscope user manual
RIGOL DS1022CD Digital Oscilloscope Technical Specifications
Bandwidth
25 MHz
Real time sample rate
400 MSa/s
Equivalent sample rate
25 GSa/s
Memory depth

1M points (single channel)

512K points (dual channels)

512K points (logic analyzer)

Rise time
14 ns
Time base range
20 ns/div - 50 s/div
Trigger modes
Edge, Video, Pulse Width, Slope, Alternate, Pattern, Duration
Input impedance
1 M Ω || 15 pF
Vertical sensitivity
2 mV/div - 5 V/div
Vertical resolution
8 bits
Maximum input voltage
400 V (DC+AC peak)
Automatic measurements
Vpp, Vmax, Vmin, Vtop, Vbase, Vamp, Vrms, Vavg, Vover, Vpre, Freq, Period, Rise, Fall, +Width, -Width, +Duty, -Duty, DelayA, DelayB
Math
Add, Subtract, Multiply, FFt
Storage

internal: 10 waveforms and 10 setups

USB: BMP, CSV, waveforms and setups

Display
5.7-inch color LCD, 320 x 234
Power source
100-240 V / 50 VA max
Weight
2.3 kg
Dimensions
303 x 154 x 133 mm
RIGOL DS1022CD Digital Oscilloscope Package
RIGOL DS1022CD digital oscilloscope (1 pc.)
Power cable (1 pc.)
Test leads (2 pcs.)
USB data cable (1 pc.)
User manual (1 pc.)
Software (1 pc.)
Specifications
Type
Number of channels

dual-channel
with 16 channel logic analyzer

Bandwidth
Sample Rate
Screen Size
Storage Capacity
Customers, interested in this product, also viewed
Digital Oscilloscope RIGOL DS1022CD