Handheld Digital Oscilloscope Hantek DSO1200
No results found for your request.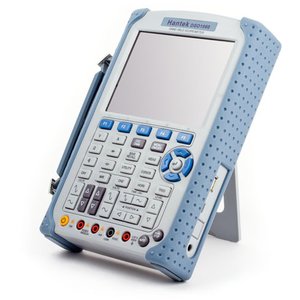 Add to comparison
Compare
ID: 821425
2.7 kg
110, 220 V
Availability in stock:
HK
EU
CN
UA
Note! This item is shipped within 7 working days.
Overview
DSO1000 Series digital oscilloscopes offer exceptional waveform viewing and measurements in a compact, lightweight package (245 × 163 × 52 mm). This handheld digital oscilloscope is ideal for production test, field service, research, design, education and training involving applications of analog circuit tests and troubleshooting.
Hantek DSO1200 is the double-channel digital oscilloscope with installed multimeter. Bandwidth is 200MHz. Real-time sampling rate is 500MSa/s. Multimeter mode allows user to measure AC/DC current and voltage, resistance, capacitance, continuity and test diodes.
Hantek DSO1200 Handheld Digital Oscilloscope Features
Large 5.7" TFT color LCD display with backlight.
USB Host/Device 2.0 full-speed interface with removable disk support. RS-232/LAN optional. Easy to control with PC or at long-distance.
Bandwidth 200MHz
Functions of high precision digital multimeter (6000 counts):

AC/DC voltage
AC/DC current
Resistance
Capacitance
Continuity
Diode test

High refresh rate. High real-time sample rate 500MSa/s, 50GSa/s equivalent-time sample rate.
Math: FFT , + , - , * , / ,X-Y. Pass/Fail function. 22 automatic measurements.
Multiform trigger mode, 2 separate time base in ALT trigger mode. Easy to see 2 signal with different frequencies.
1000 waveform records.
Installed battery: 6 hours work time.
Saving waveforms in .jpg/.bmp format, MS excel/word files.
Labview\VB\VC second design instance.
Software

compatible with: Windows NT, Windows 2000, Windows XP ,VISTA
Hantek DSO1000 Series Handheld Digital Oscilloscope Comparative Specifications
Model
1060
1200
1600
1600H
Vertical
Bandwidth, MHz
60
200
600
Rise Time, ns
5.8
0.58
Input Sensitivity
10mV/div to 5V/div
2mV/div to 5V/div
Horizontal
Real-Time Sampling Rate
150MSa/s
500MSa/s
1GSa/s
2GSa/s
Equivalent Sampling Rate
50GSa/S
Time Base Range
5ns/div~1000s/div
2ns/div~1000s/div
1ns/div~1000s/div
Trigger
Mode
Edge, Pulse Width, Alternative
Edge, Video, Pulse Width, Alternative
Hantek DSO1200 Handheld Digital Oscilloscope Technical Specifications
Vertical
Channels
2
Input Impedance
Resistance 1M
Capacitance 15 pF
Input Coupling
AC, DC and GND
Vertical Resolution
8 bits
Maximum Input
300V (DC+AC Peak)
Horizontal
Equivalent Sampling Rate
50GSa/S
Memory Depth
32k at Single Channel, 16k at Dual Channel
Time Base Precision
±50ppm
Trigger
Source
CH1, CH2
X-Y Mode
X-Axis Input
Channel 1
Y-Axis Input
Channel 2
Phase Shift
Max.3 degree
Cursors and Measurement
Voltage Measurement
Vpp, Vamp, Vmax, Vmin, Vtop, Vmid, Vbase, Vavg, Vrms, Vcrms, Preshoot, Overshoot
Time Measurement
Frequency, Period, Rise Time, Fall Time, Positive Width, Negative Width, Duty Cycle
Delay Measurement
Delay time from ch1 rising edge to ch2 rising edge, Delay time from ch1 falling edge to ch2 falling edge
Cursors Measurement
Manual, Track, Auto Measure Modes
Multimeter Mode
Maximum Resolution
6,000 Counts
Testing Modes
Ac/DC voltage, AC/DC current, resistance, capacitance, diode test, continuity
Maximum Input Voltage
AC: 600V, DC: 800V
Maximum Input Current
AC: 10A, DC: 10A
Input Impedance
10 MΩ
General information
Waveform Signal Process
CH1+/- CH2, CH1xCH2, CH1/CH2, FFT, Invert
Storage
15 Waveforms and Setups
Display
TFT LCD Type 5.7 Inch with LED Backlight Display
Display Resolution
240 (Vertical) x 320 (Horizontal) Dots
USB
USB Host / Device 2.0 Full Speed Supported
Optional
RS232, LAN
Power Source
AC 100V ~ 240V, 50Hz ~ 60Hz; DC Input: 8.5VDC, 1500mA, Battery Power (Installed) 6 Hours (Li-ion Battery)
Dimension
245 x 163 x 52 mm
Weight
1.2kg
Hantek DSO1200 Handheld Digital Oscilloscope Package Content
Hantek DSO1200 Digital Oscilloscope
Box (1pc.)
Carrying bag (1pc.)
User manual (1pc.)
Disc with software (1pc.)
Multimeter test leads (2pcs.)
Oscilloscope probes (2pcs.)
USB (1pc.)
Power adapter (1pc.)
| | |
| --- | --- |
| | |
| Hantek DSO1200 can be connected to a PC | MATH, REF |
| | |
| Multimeter mode | ALT MAG, easy to search for signal |
| | |
| The cursor function | 22 automatic measurements |
| | |
| X-Y mode | FFT |
| | |
| ALT trigger mode, dual time base, easy to observe two signals of different frequency | Built-in help system |
| | |
| Test signal more than 100MHz by ETS mode | Document management, and convenient file storage and management |
Specifications
| | |
| --- | --- |
| Type | |
| Number of channels | |
| Bandwidth | |
| Sample Rate | |
| Screen Size | |
| Storage Capacity | |
Customers, interested in this product, also viewed
Handheld Digital Oscilloscope Hantek DSO1200