PC-based Digital Storage Oscilloscope Hantek DSO-5200A
No results found for your request.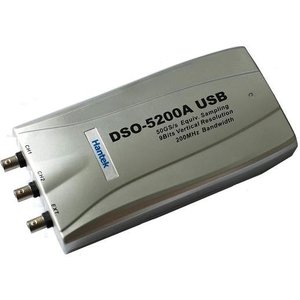 Add to comparison
Compare
Availability in stock:
HK
EU
CN
UA
Note! This item is shipped within 7 working days.
Overview
Portable Hantek DSO-5200A PC-based oscilloscope is an ideal solution in radio electronics, telecommunications, computer engineering, car testing and other fields. Hantek DSO-5200A allows mathematical waveform processing and cursor measurements. The software enables you to use all functions, while the demo mode shows the main opportunities of the oscilloscope.
Hantek DSO-5200A PC-based Digital Storage Oscilloscope User Manual
Download Hantek DSO-5200A PC-based digital storage oscilloscope user manual
Hantek DSO-5200A PC-based Digital Storage Oscilloscope Features
200 MHz bandwidth
Two channels and one extra channel for PC connection
8 bit vertical resolution
250 MS/s real-time sampling
Cursor measurements
23 measurement functions
Four mathematical operations
Waveform saving in TXT, BMP, JPG, Excel format
Labview \ VB \ VC \ Delphi \ C++Builder second design instance
No external power source required
Hantek DSO-5200A PC-based Digital Storage Oscilloscope Comparative Specifications
Model
DSO-2150 USB
DSO-2250 USB
DSO-5200A USB
Sample rate
150 MS/s (1 channel)
75 MS/s (2 channels)
250 MS/s (1 channel)
125 MS/s (2 channels)
250 MS/s (1 channel)
125 MS/s (2 channels)
equivalent to 50 GS/s
Number of channels
2
Bandwidth
60 MHz
100 MHz
200 MHz
Vertical resolution
8 bit
9 bit
Gain range
10 mV ~ 5 V/div with ×1 probe
100 mV ~ 50 V/div with ×10 probe
1 V ~ 500 V/div with ×100 probe
10 V ~ 5 KV/div with ×1000 probe
10 mV ~ 10 V/div with ×1 probe
100 mV ~ 100 V/div with ×10 probe
1 V ~ 1 KV/div with ×100 probe
10 V ~ 10 KV/div with ×1000 probe
Verically adjustable
yes
Coupling
AC, DC
AC, DC, GND
Input impedance
1 MΩ
DC accuracy
±3%
Input protection
diode clamping
Timebase range
4 ns/div ~ 1 h/div
2 ns/div ~ 1 h/div
realtime sampling: 4 ns - 400 ms/div
roll mode: 1 s/div - 1 h/div
equivalent sampling: 2 ns - 4 µs/div
real-time sampling: 10 µs - 400 ms/div
roll mode: 1 s/div - 1 h/div
Buffer size
10 KB ~ 64 KB samples
10 KB ~512 KB samples
10 KB ~1 MB samples
Trigger functions
Trigger mode
Auto, Normal and Single
Trigger type
edge trigger: rising edge, falling edge.
Trigger source
CH1, CH2, EXT
Trigger level adjustable
yes
Autoset
yes
Calculating functions
Authomatical calculations
Vp-p, Vmax, Vmin, Vmean, Vrms, Vamp, Vhigh, Vlow, positive overshoot, negative overshoot, cycle mean, cycle rms, period, frequency, positive pulse width, negative pulse width, rise time (10%~90%), fall time (10%~90%), positive duty cycle, negative duty cycle
Cursor
Time/frequency difference, voltage difference
Maths functions
Addition, Subtraction, Multiplication, Division
FFT analysis
Rectangular, Hanning, Hamming, Blackman Window
Interface
USB 2.0
Dimensions, mm
190 × 100 × 35
Hantek DSO-5200A PC-based Digital Storage Oscilloscope Package
Digital oscilloscope Hantek DSO-5200A (1 pc.)
Probe (2 pcs.)
USB cord (1 pc.)
CD with software (1 pc.)
User manual (1 pc.)
Specifications
| | |
| --- | --- |
| Type | |
| Number of channels | |
| Bandwidth | |
| Sample Rate | |
| Storage Capacity | |