Precision Meter Bokar Smart Tweezers ST-AS
No results found for your request.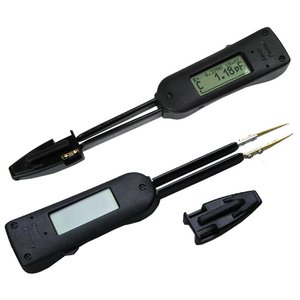 Add to comparison
Compare
Availability in stock:
HK
EU
CN
UA
Overview
Bokar Smart Tweezers ST-AS
is an
LCR meter
in a set of tweezers. Smart Tweezers features a unique patented mechanical and electronic design that integrates a highly accurate digital multimeter with a built-in high precision SMD probes and a display. This light weight device can be easily held by one hand. It is designed for component evaluation on a PCB or a production line, component impedance testing and sorting of SMD components. Smart Tweezers dramatically reduces time necessary to troubleshoot or debug a complex PCB significantly simplifying process of locating a faulty component.
The integration of SMD probes and the display, combined with an automatic recognition of a measurement mode (R, C, and L) and the best measurement range allow the user to focus on the component under test. As a result, testing, sorting and evaluation of components become much more efficient.
Features:
Inductance, capacitance, resistance

Primary display shows present reading of the main impedance component (L,C, or R). The secondary display (at the top of the LCD screen) shows present reading of the secondary impedance component, such as a parasitic resistance of the capacitor (effective series resistor ESR). The Bar Graph provides an analog indication of the measured value.

Voltage

The Smart Tweezers is capable of measuring voltage. In the Auto mode, it measures DC voltage up to 8 Volts. In the Trace mode, it shows an oscilloscope-like picture of AC voltage.

Continuity/Open Test

The Smart Tweezers is designed for a continuity test. The beeper sounds when a resistance reading is below a threshold, or to indicate an open circuit.

Durable Probes

Tweezers tips are made of gold-plated non-magnetic stainless steel.

Ergonomic Design and Convenient Controls

Smart Tweezers features a Jog Dial button to select a menu item from the list to selected a function or to change settings. Rotate the Jog Dial button to select an item and push it down to activate the selection.
Technical specifications:
Measured Parameters
C+R (ESR), L+R, R
Measuring Frequencies
100Hz, 1 kHz, 10 kHz
Measurement update rate
Up to 4 measurements per second
DC Voltage
0 to 800 mV (Up to 8V with manual setting)
Resistance
0.05Ω to 9.9MΩ
Capacitance
0.5 pF to 4999 µF
Inductance
0.5 µH to 999mH

Resistance:

Range
5 Ω - 999 kΩ
0.1  - 9.9 MΩ
Accuracy:

<1% in the 5 Ω - 999 kΩ range
<5% in the 0.1 -9.9 MΩ range
Test Frequency
1 kHz

Capacitance:

Range
10pF - 100µF
0.5pF - 4999µF
Accuracy
<3% in the 10pF - 100µF range
<5% in the 0.5pF - 4999µF range
Test Frequency
1kHz: 10000pF to 1µF; 10kHz: < 9999pF; 100Hz: > 1µF

Inductance:

Range
10µH-99µH
0.5µH-999µH
Accuracy
<3% in the range of 10µH - 99mH
<5% in the range of 0.55µH - 999mH
Test Frequency
10kHz: 0.5 to 99 1µH; 1kHz: 100µH to 99mH; 0.1 kHz: > 100mH

DC Voltage:

Range
0 - 8 V
Accuracy
<1%

Physical Specifications:

Operating Temperature
0°C to +55°C
Storage Temperature
-40°C hasta +70°C
Relative Humidity
0 % to 90 % (0 °C to 35 °C)
0 % to 70 % (35 °C to 55 °C)
Altitude Operating
0-2000 m
Battery Type
1.5V LR44 Alkaline or Air zinc
Battery Life
70 hours with alkalin
200 hours with air zinc battery
Electromagnetic Compatibility (EMC)
Susceptibility and Emission: FCC 15 part B
Size
14.0 x 2.5 x 3.0 cm
Warranty
1 year