Thermal Imaging Camera Fluke Ti32
No results found for your request.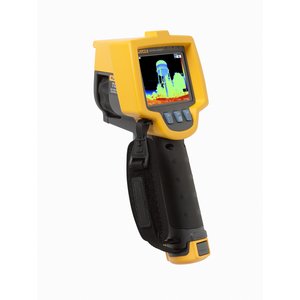 Add to comparison
Compare
ID: 824326
0 kg
110, 220 V
Availability in stock:
HK
EU
CN
UA
Overview
Fluke Ti32 thermal imaging camera is a diagnostical tool for detecting hidden problems using temperature rise. Built for tough work environments, this fully radiometric thermal imaging camera is a good solution for troubleshooting electrical installations, electro-mechanical equipment, process equipment, HVAC/R equipment and others. The new Fluke Ti32 combines a powerful 320 × 240 sensor with rugged design. Fluke Ti32 thermal imaging camera greatly increases the speed of inspecting, repairing and verifying with IR-Fusion® technology.
Fluke Ti32 Thermal Imaging Camera User Manuals
Download Fluke Ti32 thermal imaging camera user manual
Download additional information (Data Sheet) about Fluke Ti32 thermal imaging camera
Fluke Ti32 Thermal Imaging Camera Features
Designed for field use in harsh work environments
Tested to withstand a 2 meter drop, as well as dust and water
Emissivity selection and on-screen correction
Clear, crisp images needed to find problems fast
Excellent thermal sensitivity of 0.05°C
Optional telephoto and wide angle lenses available for added versatility and special applications
User selectable temperature scale (°C/°F)
Enhanced analysis capabilities with IR-Fusion® technology
Voice comments for images
More than 3000 .bmp or 1200 IR-Fusion images storage (2 GB memory card included)
SmartView® full analysis and reporting software included
Light weight, pocket size and intuitive user-friendly menu
Sleep mode activated after 5 minutes of inactivity
Automatic power off after 30 minutes of inactivity
Widescreen color LCD with high resolution
Time/Date set
16 languages selection
Fluke Ti9 Thermal Imaging Camera Technical Specifications
Model
Ti9
Ti25
Ti32
TiRx
Optical data and imaging
Lens type
standard infrared lens
standard infrared lens
optional telephoto infrared lens
(not included in package)
optional wide-angle infrared lens
(not included in package)
standard infrared lens
Minimum focus distance
0.15 m for thermal lens
0.46 m for visible light lens
0.15 m
0.45 m
0.75 m
0.15 m for thermal lens
0.46 m for visible light lens
Field of view
23° × 17°
23° × 17°
11.5° × 8.7°
46° × 34°
23° × 17°
Spatial resolution
2.5 mrad
1.25 mrad
0.63 mrad
2.5 mrad
2.5 mrad
Thermal sensitivity
< 0.2°C
< 0.1°C
< 0.05°C
< 0.1°C
Focus
manual
Image sweep frequency
60 Hz
Detector data
Spectral range
7.5 - 14 μm
8 - 14 μm
7.5 - 14 μm
Detector type
focal plane array (FPA), uncooled microbolometer
Measurement
Object temperature range
-20°C to +250°C
-20°C to +350°C
-20°C to +600°C
-20°C to +100°C
Measurement
±5°C or ±5% of reading
±2°C or ±2% of reading
±5°C or ±5% of reading
Measurement modes
auto / manual
Emissivity correction
–
yes
–
Color palettes
ironbow, blue-red, high contrast, grey
ironbow, blue-red, high contrast, grey, amber, hot metal
ironbow, blue-red, high contrast, grey, amber, hot metal, amber inverted, grayscale, grayscale inverted
ironbow, blue-red, high contrast, grey
IR-Fusion® information
–
visual and IR blending
IR blending
–
Voice annotation
–
60 seconds maximum recording time per image
–
Image storage and data communication interfaces
File formats
.bmp, .is2
.bmp, .jpg, .is2
.bmp, .jpg, .is2
Storage medium
SD memory card
Export file formats with SmartView®
.jpeg, .jpg, .jpe, .jfif, .bmp, .gif, .dip, .png, .tif, .tiff
General information
Operating temperature
-10°C to 50°C
Battery
rechargeable battery
operation time approx. 3 to 4 hours
AC adapter
two rechargeable batteries
operation time more than 4 hours
AC adapter
rechargeable battery
operation time approx. 3 to 4 hours
AC adapter
Display
color LCD, 640 × 480, 3.7"
Dimentions, mm
254 × 127 × 152
277 × 122 × 170
254 × 127 × 152
Weight
1.1 kg (battery included)
1.05 kg (battery included)
1.1 kg (battery included)
Fluke Ti32 Thermal Imaging Camera Package
Thermal imaging camera Fluke Ti32 (1 pc.)
SD memory card (1 pc.)
Multi-format USB memory card reader (1 pc.)
Lithium-ion smart battery pack (2 pcs.)
Power supply and battery pack charger (1 pc.)
User manual (1 pc.)
SmartView software (1 pc.)
Interactive training DVD (1 pc.)
Warranty registration card (1 pc.)
Hand strap (1 pc.)
Soft carrying case (1 pc.)
Rugged hard carrying case (1 pc.)
Specifications
| | |
| --- | --- |
| Min. temperature | |
| Max. temperature | |
| Refresh rate | |