Visual IR Thermometer Fluke VT04
No results found for your request.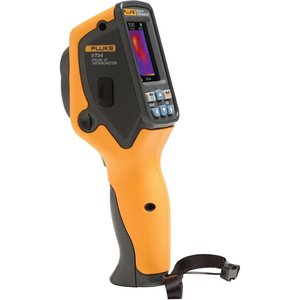 Add to comparison
Compare
ID: 860440
2 kg
110, 220 V
Availability in stock:
HK
EU
CN
UA
Note! This item is shipped within 7 working days.
Overview
Fluke VT04 is a visual IR thermometer that blends a visual image with a heat map overlay, to help quickly identify the location of issues.
Features
Visual image and infrared heat map blending - Identify the exact location of the potential issue by blending the visual image with the heat map overlay at 0%, 25%, 50%, 75%, and 100% infrared with one button
NEAR and FAR mode - Align the visual and thermal lenses to correctly identify the location of the issue
Center measurement box - See the exact area of temperature measurement right on the screen
Temperature alarms and automated monitoring features - Identify intermittent problems by monitoring equipment over time or get alerts when a temperature is outside the expected range
Hot and cold markers - Instantly identify hottest and coldest spots within the field of view
Save in .bmp or .is2 format - Choose .bmp when all you want is the image, or use .is2 format that can be edited in SmartView® software
SmartView® reporting software - Optimize the image blending and palette and quickly create professional reports
Pocket-size design - Handy when you need it; easily fits in your tool bag or pocket
Intuitive interface - Get to work as soon as you take it out of the box
Technical Specifications
Built-in visual camera
Yes, get the context of visible light details in your images
Infrared heat map and visual image blending
Yes, five blending modes on camera and continuous blending in SmartView® software
Alignment options
NEAR: <23 cm (9 in) from target
FAR: >23 cm (9 in) from target
Field of view
28° x 28° — the tight field of view lets you see more detail in your target
Infrared spectral band
6.5 µm to 14 µm
Temperature measurement range
-10 °C to +250 °C (14 °F to 482 °F)
Temperature measurement accuracy
± 2 °C or ± 2 %
Temperature measurement
center-point
Focus system
Focus free
High/low temperature alarms
Yes, high and low temperature alarms flash whenever the temperature threshold is exceeded, alerting you when a temperature is outside the expected range
Time-lapse image capture
Yes, automatically capture images at set intervals to see how temperature patterns change over time
Auto-monitor alarm
Yes, gain insight into intermittent problems by automatically capturing images when your selected temperature threshold is exceeded
Hot and cold markers
Yes, instantly identify the hottest and coldest spots in your image
Software
Professional SmartView® software enables you to optimize and analyze images, create quick reports and export images to multiple formats
Temperature measurement area
Center measurement box on screen shows the exact area the measurement is based on
File format
.bmp or .is2. The .is2 is editable in SmartView® software
Storage medium
4 GB micro-SD card that stores up to 9,999 images
Palettes
6 on the unit (Ironbow VT, Hot Metal, Greyscale Inverted, Greyscale, High Contrast VT, Rainbow); 4 additional in SmartView® Software (Blue Red, High Contrast, Amber, Amber Inverted). Palette on .is2 images can be changed in SmartView® software.
Case
Hard case
Battery type
Li-ion rechargeable
Battery life
8 hours
Battery-saving features
Three screen brightness levels; auto screen dimming after 2 minutes; configurable auto-off time of 5, 10, 15, or 20 minutes
Dimensions
21 cm x 7.5 cm x 5.5 cm
Weight
350 g
Video
Additional Information
Download Fluke VT04 Data Sheet.
Package Contents
Fluke VT04 Visual IR Thermometer — 1 pc.
Hard case — 1 pc.
Micro-SD card — 1 pc.
Micro-SD conversion adapter to standard — 1 pc.
Li-Ion rechargeable battery — 1 pc.
Micro USB charger and universal AC adapters — 1 pc.
Lanyard — 1 pc.
Printed quick reference guides (English, French, German, Spanish, Simplified Chinese) — 1 pc.
SmartView® software — 1 pc.
Users manual — 1 pc.
Specifications
| | |
| --- | --- |
| Min. temperature | |
| Max. temperature | |
| Refresh rate | |
Visual IR Thermometer Fluke VT04