Hex Key Set Pro'sKit 8PK-027
No results found for your request.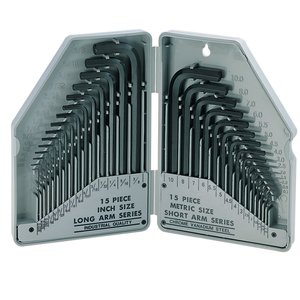 Add to comparison
Compare
Availability in stock:
HK
EU
CN
UA
Overview
Hex key set Pro'sKit 8PK-027 with comfortable long arms is useful for many applications because of different tip sizes and opportunity to work even in narrow spaces. Long arm is designed in inch size and short arm is designed in metric size for easy recognition. The key set ncludes even micro size allen keys for watch repair.
Features
Complete size selection of hex keys
Portable packaging
Clear marking for easy usage
Specially set up knob for easy case opening/closing
Case can be hung for storage or display
Packaging designed to fully protect allen keys from loss
Exceptionally designed clips for stable storage
Specifications
| | | | | | |
| --- | --- | --- | --- | --- | --- |
| Tip size, mm | S, mm | L, mm | Tip size, inches | S, mm | L, mm |
| 0.7 | 8 | 35 | 0.028" | 8 | 65 |
| 0.9 | 10 | 38 | 0.035" | 10 | 68 |
| 1.3 | 12 | 41 | 0.050" | 12 | 72 |
| 1.5 | 14 | 45 | 1/16" | 14 | 77 |
| 2 | 17 | 50 | 5/64" | 15 | 82 |
| 2.5 | 19 | 56 | 3/32" | 18 | 89 |
| 3 | 20 | 65 | 7/64" | 18 | 93 |
| 4 | 25 | 70 | 1/8" | 19 | 98 |
| 4.5 | 27 | 77 | 9/64" | 20 | 103 |
| 5 | 29 | 81 | 5/32" | 22 | 107 |
| 5.5 | 31 | 86 | 3/16" | 25 | 117 |
| 6 | 33 | 93 | 7/32" | 28 | 127 |
| 7 | 36 | 100 | 1/4" | 29 | 138 |
| 8 | 37 | 103 | 5/16" | 35 | 155 |
| 10 | 44 | 117 | 3/8" | 36 | 177 |
Specifications
Type
Hex Size

H 1.5 mm
H 2.0 mm
H 2.5 mm
H 3.0 mm
H 4.0 mm
H 5.0 mm
H 6.0 mm
H 8.0 mm
5/64"
3/32"
1/8"
5/32"
9/64"
7/64"
3/16"
1/4"
H 5.5 mm
H 10 mm
H 0.7 mm
H 0.9 mm
H 1.3 mm
1/16"
0.028"
0.035"
0.050"
H 7.0 mm
7/32"
5/16"
3/8"
H 4.5 mm
Hex Key Set Pro'sKit 8PK-027