General Household Repair Kit Pro'sKit PK-2056
No results found for your request.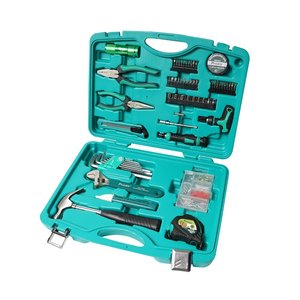 Add to comparison
Compare
Availability in stock:
HK
EU
CN
UA
Overview
Pro'sKit PK-2056 – hosehold application tool set for general purpose repair works.
Features
Includes the most popular and needed tools.
Suitable for general repair works at home and in the office, etc.
Convenient fashionable storage case.
Package & Specifications
| | |
| --- | --- |
| Pro'sKit 1PK-H028 | Adjustable wrench (8") |
| Pro'sKit 9MS-001 | PVC insulated tape |
| Pro'sKit PD-513 | Utility knife |
| Pro'sKit PD-2612 | 8 oz curved claw hammer |
| Pro'sKit 1PK-052DS | Dual color lineman's pliers (165 mm) |
| Pro'sKit 1PK-709DS | Dual color long nose pliers (165 mm) |
| Pro'sKit NT-306 | Non-contact voltage detector |
| Pro'sKit 9DK-2060 | Auto stop measuring tape (3 m) |
| Pro'sKit FL-516 | LED flashlight |
| Pro'sKit HW-129 | Long arm hex key set (9 pcs) |
| Pro'sKit 9SD-2320-BIT | Bit set (1/4" bits: 3, 5, 6, PH1, PH2, PH3, T10, T15, T20, adaptor) |
| Pro'sKit 9SD-2320-SOC | Socket set (1/4" drive sockets: 5.0 / 6.0 / 7.0 / 8.0 / 9.0 / 10.0 / 11.0 / 12.0 / 13.0 mm) |
| Pro'sKit 9SD-2320M-EXT | Extension bar (100 mm) |
| Pro'sKit 9SD-2320M-HAN | Mini T-handle ratchet driver |
| Pro'sKit 9SD-9857M-ADP | 1/4" to 4 mm adaptor |
| Pro'sKit 9SD-9857M-BIT1 | Bit set (4 mm bits: 1.5, 2.0, 2.5, 3.0, 3.5, PH00, PH0, PH1*2, PH2) |
| Pro'sKit 9SD-9857M-BIT2 | Bit set (4 mm bits: T4, T5, T6, T8, T10, 0.9, 1.3, 1.5, 2.0, 2.5 mm) |
| Pro'sKit 9SD-9857M-HAN | Handle |
| Pro'sKit MS-330 | Home hardware assortment (101 pcs) |
| Pro'sKit 9SB-2056 | HDPE blow box (400 × 310 × 80 mm) |