Insulated Tool Kit Pro'sKit PK-2809M
No results found for your request.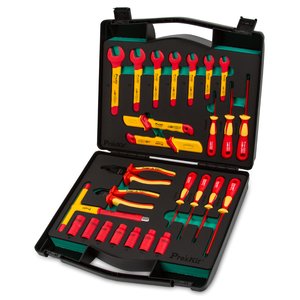 Add to comparison
Compare
Availability in stock:
HK
EU
CN
UA
Overview
Pro'sKit PK-2809M is a set of insulated tools (1000 V, 26 pcs.) in a durable tool box including wrenches, screwdrivers and pliers ideal for power plant, HVAC, automotive, military, aircraft field and other applications.
Contents and Specifications
| | |
| --- | --- |
| PM-911 | Insulated combination pliers (195 mm) |
| PM-917 | Insulated side cutting pliers (165 mm) |
| HW-V110B | Insulated single open end wrench 10 mm |
| HW-V111B | Insulated single open end wrench 11 mm |
| HW-V112B | Insulated single open end wrench 12 mm |
| HW-V113B | Insulated single open end wrench 13 mm |
| HW-V114B | Insulated single open end wrench 14 mm |
| HW-V117B | Insulated single open end wrench 17 mm |
| HW-V119B | Insulated single open end wrench 19 mm |
| SD-800-S2.5 | Insulated screwdriver (-2.5×75) |
| SD-800-S3.0 | Insulated screwdriver (-3.0×100) |
| SD-800-S4.0 | Insulated screwdriver (-4.0×100) |
| SD-800-S5.5 | Insulated screwdriver (-5.5×125) |
| SD-800-P0 | Insulated screwdriver (#0×60) |
| SD-800-P1 | Insulated screwdriver (#1×80) |
| SD-800-P2 | Insulated screwdriver (#2×100) |
| SK-V752 | Insulated 1/2" drive T handle 200 mm |
| SK-V410B | Insulated 1/2" drive socket 10 mm |
| SK-V411B | Insulated 1/2" drive socket 11 mm |
| SK-V412B | Insulated 1/2" drive socket 12 mm |
| SK-V413B | Insulated 1/2" drive socket 13 mm |
| SK-V414B | Insulated 1/2" drive socket 14 mm |
| SK-V417B | Insulated 1/2" drive socket 17 mm |
| SK-V419B | Insulated 1/2" drive socket 19 mm |
| PD-V003A | Insulated straight blade cable knife 50×180 mm |
| PD-V003B | Insulated hook blade cable knife 28×155 mm |
| SB-3935 | Plastic tool box (390×350×90 mm) |
Customers, interested in this product, also viewed
Insulated Tool Kit Pro'sKit PK-2809M