Professional Tool Kit Pro'sKit PK-15308BM
No results found for your request.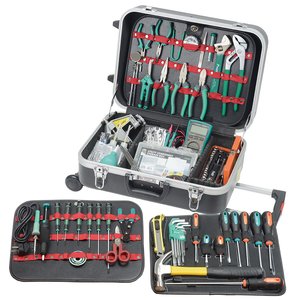 Add to comparison
Compare
Availability in stock:
HK
EU
CN
UA
Overview
Pro'sKit PK-15308BM is a professional tool kit, designed for electricians and engineers. Pro'sKit PK-15308BM tool kit includes variety of pliers, screwdrivers, soldering and desoldering tools, and many other useful instruments.
Features
Large number of professional electricians tools in one set
Includes soldering iron and desoldering pump
Perfect for professionals dealing with electronics equipment and electrical wiring
Robust ABS case with wheels and telescopic handle
Case size: 465 x 335 x 190 mm
Package Contents
| | |
| --- | --- |
| MT-1232 | 3-3/4 digital multimeter |
| 8PK-SD016 | 1/4" driver socket set (23 pcs.) |
| PD-2606 | Heavy duty curved-claw hammer |
| 1PK-H028 | Adjustable wrench 8" |
| 908-609 | IC extractor |
| PD-374 | Hobby vise |
| PN-P010N | Pliers 254 mm |
| SD-081-S3 | ProSoft precision screwdriver 2.0x50 mm |
| SD-081-S6 | ProSoft precision screwdriver 2.4x75 mm |
| SD-081-S7 | ProSoft precision screwdriver 3.0x100 mm |
| SD-081-P2 | ProSoft precision screwdriver #00x50 mm |
| SD-081-P5 | ProSoft precision screwdriver #0x75 mm |
| SD-081-P7 | ProSoft precision screwdriver #1x150 mm |
| SB-1912 | Utility component storage box |
| 9SD-202A | ProSoft screwdriver 5x75 mm |
| 9SD-202B | ProSoft screwdriver #1x75 mm |
| 9SD-210A | ProSoft screwdriver 5x100 mm |
| 9SD-210B | ProSoft screwdriver #1x100 mm |
| 9SD-207A | ProSoft screwdriver 6.0x100 mm |
| 9SD-207B | ProSoft screwdriver #2x100 mm |
| 9SD-217B | ProSoft screwdriver #2x250 mm |
| 9SD-220A | ProSoft screwdriver 6.0x40 mm |
| 9SD-220B | ProSoft screwdriver #2x40 mm |
| 1PK-125T | Fine tip straight tweezers |
| PM-736 | Long nose pliers 135 mm |
| PM-737 | Diagonal cutting pliers 110 mm |
| 1PK-052DS | Dual color combination pliers |
| 1PK-067DS | Dual color cutting pliers |
| 1PK-709DS | Dual color long nose pliers |
| HW-129B | Ball point long arm hex key set (9 pcs.) |
| HW-609A/B | Combination wrench (10 pcs.) |
| 8PK-605A | Needle file set (5 pcs.) |
| SI-130B-20 | Soldering iron (220 V) |
| 9DP-031B | Desoldering wick |
| 9DP-S001 | Solder core 63%, SN |
| 9MS-001 | PVC insulated tape |
| DK-2039 | Utility knife (3 blades self loading) |
| DK-2040 | Measuring tape 3M/10FT |
| SR-330 | Snippers |
| DP-366D | Desoldering pump |
| MS-035 | Flux bottle (2 pcs./pack) |
| MS-154C | Brush (ø 62 mm) |
| MS-323 | Telescopic magnetic pick up tool |
| MS-391 | Inspection mirror |
| 9PK-15308-P | Pallet for PK-15308 |
| TC-311 | Heavy duty ABS case |
Professional Tool Kit Pro'sKit PK-15308BM