Electricians Tool Kit Pro'sKit 1PK-990B
No results found for your request.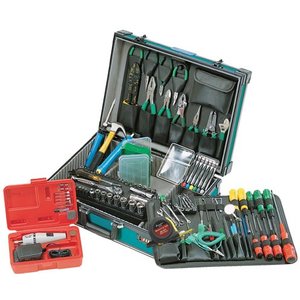 Add to comparison
Compare
Availability in stock:
HK
EU
CN
UA
Overview
Pro'sKit 1PK-990B is a professional tool kit, designed for electricians and engineers. Pro'sKit 1PK-990B tool kit comes in a big aluminium case and includes variety of pliers, screwdrivers, soldering and desoldering tools, and many other useful instruments.
Pro'sKit 1PK-990B Electricians Tool Kit Features
Large number of professional electricians tools in one set
Includes soldering iron and desoldering pump
Perfect for professionals dealing with electronics equipment and electrical wiring
Robust carrying case, made of aluminium
Case size: 461 x 331 x 156 mm
Pro'sKit 1PK-990B Electricians Tool Kit Package Contents
| | |
| --- | --- |
| 103-132C | Utility storage box |
| 1PK-054S | Flat nose pliers 135 mm |
| 1PK-055S | Bent nose pliers 130 mm |
| 1PK-051 | Combination pliers 210 mm |
| 1PK-067 | Side cutting pliers 165 mm |
| 1PK-125T | Fine tip straight tweezers |
| 1PK-317N | Spring hook |
| 9S002A/B/C | Soldering aid tools (3 pcs.) |
| DP-366P | Desoldering pump |
| 1PK-500B-2 | Drill set w/adaptor |
| 1PK-606A | Anti-static alignment tool kit (3 pcs.) |
| 11PK-705 | Diagonal cutting nipper pliers |
| 1PK-706 | Long nose pliers |
| 1PK-709 | Long nose pliers 150 mm |
| 1PK-H026 | Adjustable wrench 6" |
| 1PK-H028 | Adjustable wrench 8" |
| 1PK-SC109B | Soldering iron |
| 19400-M5/9408 | Pro-soft screwdriver 5 mm |
| 19400-M6/9409 | Pro-soft screwdriver 6 mm |
| 89401A | Pro-soft screwdriver 3.2x75 mm |
| 89401B | Pro-soft screwdriver #0x75 mm |
| 89402A | Pro-soft screwdriver 5.0x75 mm |
| 89402B | Pro-soft screwdriver #1x75 mm |
| 89407A | Pro-soft screwdriver 6.0x100 mm |
| 89407B | Pro-soft screwdriver #2x100 mm |
| 89414B | Pro-soft screwdriver #2x157 mm |
| 8PK-031B | Desoldering wick |
| 8PK-154 | Brush |
| 8PK-2061 | Electronic screwdriver set (6 pcs.) |
| 8PK-227 | Socket and screwdriver set (40 pcs.) |
| 8PK-3001D | Precision wire stripper |
| 8PK-313B | Crimping tool |
| 8PK-605A | Needle file set (5 pcs.) |
| 908-609A | IC extractor |
| 9FL-005 | Mini flash light |
| 9H002A | Folding type hex key set (7 pcs.) |
| 9H003 | 3 Prong holder |
| PD-2606 | Curved-claw hammer |
| 9IT | PVC insulated tape |
| 9S001 | Solder (63%, SN) |
| 9S004 | Heat sink |
| AS-611 | Wrist strap |
| DK-2040 | Measuring tape 3M |
| HW-608B | Electronic combination wrench (10 pcs.) |
| 1PK-390 | Inspection mirror |
| PN-086N | Slip joint pliers 154 mm |
| 9PK-990EN-P | Pallet for 1PK-990 |
| 9PK-990EN-TP | Top pallet for 1PK-990 |
| 9PK-990EN | Aluminum tool case |
Electricians Tool Kit Pro'sKit 1PK-990B