Tool Kit Pro'sKit 1PK-630B for PC service
No results found for your request.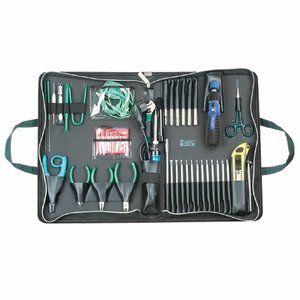 Add to comparison
Compare
Availability in stock:
HK
EU
CN
UA
Overview
Pro'sKit 1PK-630B is a tool kit for PC service.
Features
Case size: 375x250x60 (mm).
34 elements in set.
The tools are fixed on the internal walls of the bag.
The contents list is available at "Detail".
Soldering Voltage: 220~240V.
Weight: 2.49 kg.
Standard Plug: B.
Contents and Specifications
| | |
| --- | --- |
| Pro'sKit 1PK-701 | Micro cutting plier |
| Pro'sKit 1PK-704 | Long nose plier |
| Pro'sKit 1PK-705 | Diagonal cutting nipper |
| Pro'sKit 1PK-H024 | Adjustable wrench 4" |
| Pro'sKit 1PK-SC109A/1PK-SC109B | Quick heat ceramic soldering iron 110V or 220V |
| Pro'sKit 1PK-T405 | Straight Forceps 5" |
| Pro'sKit 8PK-022 | 7 pcs Miniature L shaped hex key set |
| Pro'sKit 8PK-208D | Wire stripper/cutter |
| Pro'sKit 9K003A-1 | Needle file flat |
| Pro'sKit 9K003B-1 | Needle file round |
| Pro'sKit 8PK-CT004 | Insertion/extraction tool |
| Pro'sKit 908-609 | IC extractor |
| Pro'sKit 9H003 | 3 Prong holder |
| Pro'sKit 9PK-026 | Pin vise |
| Pro'sKit 9SD055-EX | Extension blade 7" (175 mm) |
| Pro'sKit 9SD055-I1/M3 | Nut blade 3/32"(inch) or 3 mm (metric) |
| Pro'sKit 9SD055-I2/M4 | Nut blade 1/8"(inch) or 4 mm (metric) |
| Pro'sKit 9SD055-I3/M4.5 | Nut blade 5/32"(inch) or 4.5 mm (metric) |
| Pro'sKit 9SD055-I4/M5 | Nut blade 3/16"(inch) or 5 mm (metric) |
| Pro'sKit 9SD055-I5/M5.5 | Nut blade 7/32"(inch) or 5.5 mm (metric) |
| Pro'sKit 9SD055-I6/M6 | Nut blade 1/4"(inch) or 6 mm (metric) |
| Pro'sKit 9SD055-T6 | Driver blade T6 |
| Pro'sKit 9SD055-T7 | Driver blade T7 |
| Pro'sKit 9SD055-T8 | Driver blade T8 |
| Pro'sKit 9SD055-T9 | Driver blade T9 |
| Pro'sKit 9SD055N | Super torque ratchet handle |
| Pro'sKit 9SD055N-BIT | 8 pcs screwdriver blades: #0, #1, #2 3, 5, 6 (mm) T10, T15 |
| Pro'sKit AS-611 | Wrist strap 10FT |
| Pro'sKit DK-2039 | Utility knife (3 blades self loading) |
| Pro'sKit MS-391 | Inspection mirroe |
| Pro'sKit 9Z-630 | Carrying zipper bag |
Specifications
| | |
| --- | --- |
| Type | for PC and laptop maintenance |