LAN Maintenance Kit Pro'sKit 1PK-19382B
No results found for your request.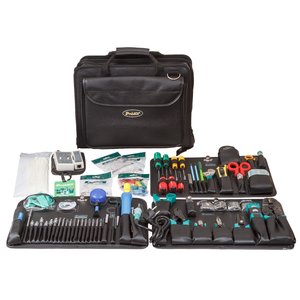 Add to comparison
Compare
Availability in stock:
HK
EU
CN
UA
Overview
Pro'sKit 1PK-19382B is a set consisting of various pliers, screwdrivers, wrenches and other metric tools required for inspection, maintenance and repairing communication networks. Tool kit also includes all the needed equipment for operation with cables: strippers, crimpers, cutters and a cable tester. The required soldering equipment is included as well.
Features
Voltage: 220V~240V.
System: Metric.
Standard Plug: B
Case size: 400×305×150 mm.
Contents & Specifications
Pro'sKit 1PK-125T
Fine tip straight tweezers
Pro'sKit 1PK-258A
Side cutting pliers (125 mm)
Pro'sKit 1PK-258B
Long nose pliers (138 mm)
Pro'sKit 3PK-NT007
Multi-network cable tester
Pro'sKit 608-330
Round cable cutter
Pro'sKit CP-505
Universal stripping tool
Pro'sKit 8PK-3001D
Precision wire stripper
Pro'sKit 8PK-CT001
UTP/STP cable stripper
Pro'sKit 8PK-3140N
Punch down tool with 110/66 blades
Pro'sKit CP-3005F
Quick interchangeable ratcheting modular crimper
Pro'sKit 1PK-3003D11
RJ-45 Die set
Pro'sKit 1PK-3003D12
RJ-11 Die set
Pro'sKit 1PK-3003D15
RG-58, RG-59/62, BNC/TNC Die set
Pro'sKit 1PK-3003D16
RJ-22 Die set
Pro'sKit 1PK-3003D3
RG-58, RG-59/62 AU BNC/TNC Die set
Pro'sKit 1PK-3171
Spring hook
Pro'sKit 1PK-317N
Spring hook
Pro'sKit SI-130B-20
Ceramic soldering iron
Pro'sKit DP-366P
Desoldering pump
Pro'sKit 8PK-031B
Desoldering wick
Pro'sKit 9S001
Solder core 63%, SN
Pro'sKit 1PK-H026
Adjustable wrench 6"
Pro'sKit 1PK-T406
Straight forceps 6"
Pro'sKit 9H002A
Folding type hex key set (7 pcs)
Pro'sKit 19400-M5/9408
Hex nut driver
5 mm
Pro'sKit 19400-M6/9409
Hex nut driver
6 mm
Pro'sKit 89401A
Slotted screwdriver
3.2x75 mm
Pro'sKit 89402A
Slotted screwdriver
5.0x75 mm
Pro'sKit 89401B
Phillips screwdriver
#0x75 mm
Pro'sKit 89402B
Phillips screwdriver
#1x75 mm
Pro'sKit 89407B
Phillips screwdriver
#2x100 mm
Pro'sKit 9PK-3018SD
Super torque ratchet handle
Pro'sKit 9SD055-M3~M6
Nut driver blades (6 pcs)
3 mm, 4 mm, 4.5 mm, 5 mm, 5.5 mm, 6 mm
Pro'sKit 9SD055N-BIT
Screwdriver blades (8 pcs)
#0, #1, #2
3, 5, 6 mm
T10, T15
Pro'sKit 9SD055-T6
Screwdriver blade
T6
Pro'sKit 9SD055-T7
Screwdriver blade
T7
Pro'sKit 9SD055-T8
Screwdriver blade
T8
Pro'sKit 9SD055-T9
Screwdriver blade
T9
Pro'sKit 9SD055-EX
Extension blade (175 mm)
Pro'sKit 9SB-1007G
Mini component storage box
Pro'sKit 908-607
Alignment Tool (200 mm / 2.0 mm)
Pro'sKit 9FL-005
Mini flash light
Pro'sKit 9F075
Cable tie
Pro'sKit 9PK-154B
Blowing brush
Pro'sKit 9RJ-11-50
6-Position 4 contact flat stranded (50 pcs/bag)
Pro'sKit 9RJ-22-50
4-Position 4 contact flat stranded (50 pcs/bag)
Pro'sKit 9RJ-45-25
8-Position 8 contact round stranded (25 pcs/bag)
Pro'sKit 9RJ-45PC
RJ-45 protection cap (20 pcs/bag)
Pro'sKit AS-611
Wrist strap (3 m)
Pro'sKit DK-2039
Utility knife (3 blades self loading)
Pro'sKit DK-2040
Measuring tape (3 m)
Pro'sKit DK-2047N
Electrician's scissors
Pro'sKit MS-391
Inspection mirror
Pro'sKit 9PK-9382-P2
Pallet for

Pro'sKit

1PK-9382
Pro'sKit 9PK-938-P
Pallet for

Pro'sKit

1PK-938 series
Pro'sKit 9PK-938-TP
Top pallet for

Pro'sKit

1PK-938 series
Pro'sKit TC-2004
Carrying tool bag with 3 pallets
Specifications
| | |
| --- | --- |
| Type | for the telecom networks installation |
LAN Maintenance Kit Pro'sKit 1PK-19382B