LCD compatible with FR Book E251; LBook eReader V5; ORSiO b751; Qumo Colibri; Treelogic Lecto 501; Bookeen CyBook Opus; Digma E500; Gmini MagicBook M5; PocketBook 360; Sony PRS-300, (5", (800x600)) #ED050SC3(Lf)/ED050SC5/LB050S01-RD01
No results found for your request.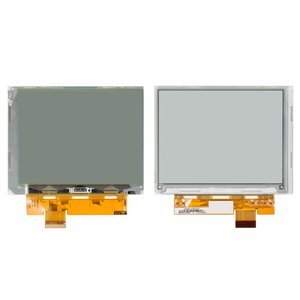 Add to comparison
Compare
Availability in stock:
HK
EU
CN
Overview
E Ink display for eBook readers, the electronic devices that are designed primarily for the purpose of reading digital books and periodicals and use e-ink technology to display content to readers. Size 5".
Specifications
LCD is compatible with the following models of E-Readers

Sony PRS-300
PocketBook 360
Bookeen CyBook Opus
Digma E500
FR Book E251
Gmini MagicBook M5
LBook eReader V5
ORSiO b751
Qumo Colibri
Treelogic Lecto 501

Diagonal
Characteristics
Tips
Imagine you have replaced the screen but it doesn't clear itself before displaying the next page and you can still see some letters or words. In this case, you need to adjust VCON voltage. Many models have a special trimmer for this purpose but some models can be corrected via software only.
Spare Parts Quality Levels
LCD compatible with FR Book E251; LBook eReader V5; ORSiO b751; Qumo Colibri; Treelogic Lecto 501; Bookeen CyBook Opus; Digma E500; Gmini MagicBook M5; PocketBook 360; Sony PRS-300, (5", (800x600)) #ED050SC3(Lf)/ED050SC5/LB050S01-RD01