Medusa Pro Box + Hot Air Rework Station Accta 301 (220V) Combo
No results found for your request.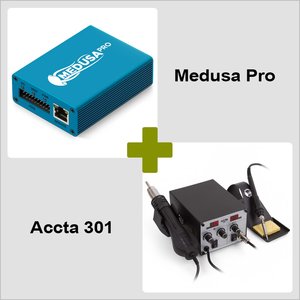 Add to comparison
Compare
Availability in stock:
HK
EU
CN
Overview
This product is a result of developers' own solutions,
which makes it the most reliable servicing tool on the market.
Medusa PRO Box is a professional phone flashing and mobile unlocking tool that lets you work with a wide range of Samsung, Huawei, LG, Motorola, Siemens, Sony Ericsson, Vodafone, ZTE and other mobile devices through JTAG, USB and MMC interfaces. The main intended purpose of Medusa PRO Box is repairing dead boots of the devices (mobile phones, PDAs, modems, etc.) or these devices recovery, until they become fully operational. Medusa PRO Box Software is a windows application for Medusa PRO Box, provides convenient interface for end user.
Medusa PRO Box - Features:
Medusa PRO - Hardware Features:
Fast USB 2.0 high-speed hardware
JTAG support for ARMv5, ARMv6, ARMv7
Up to 24MHz JTAG speed
Transfer speed via JTAG interface up to 1 MB/s
eMMC support up to MMC 5.0 standard
1-bit and 4-bit MMC bus modes are supported
Standard 20-pin JTAG interface
Built-in JTAG PIN finder
Built-in USB CCID smart card reader
Built-in RJ45 Multiport, Unibox capable
Full description of Medusa Pro Box.
Accta 301 – dual-channel hot air soldering/desoldering station. Apart from the hot air gun, the package includes a soldering iron, hor air gun and soldering iron holders, a soldering iron tip and hot air nozzles.
Features
Ultra-compact device.
Microprocessor control system.
Real-time temperature display.
Allows temperature monitoring when the tip touches with the surface.
Temperature parameters control using analog adjusting potentiometers.
Hot air gun overheating protection.
Soldering iron temperature accuracy ±5 °C.
Soldering iron linear temperature characteristic.
Soldering iron heat-up time up to 12 seconds.
Hot air gun auto switch-off.
Soldering iron compatibility with Hakko 900M standard replacement soldering tips.
The power cord may be disconnected and replaced. The connection type is IEC cord (C13/C14).
CE certified.
Full description of Accta 301.
Due to the onrush of technology and efforts to meet every customer's demands, the supplier retains the right to change some positions in the list of cables and accessories coming together with the product. Therefore, the package content presented above is rather tentative. More details on the matter can be obtained from our sales managers.
* Developer provides support only for those phones which are on the list of supported. Not all servicing features can be applied to some supported models, due to difference of hardware / software versions.
Specifications
Box is compatible with the following models of Cell phones

Samsung
Huawei
Sony
LG
Motorola
Vodafone
ZTE
Sony Ericsson