Micro-Box: BlackBerry MEP0 Unlock Activation
No results found for your request.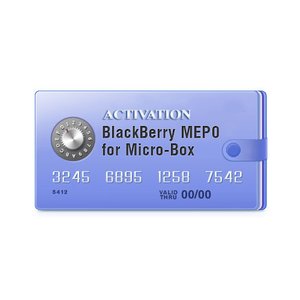 Add to comparison
Compare
Virtual product. Instructions provided by e-mail.
Purchase of this virtual product is generally processed within 2 hours after we received your payment in full. For details please read
FAQ
.
Overview
Additional activation for Micro-Box* users enables MEP0/direct unlock of BlackBerry cell phones.
*Micro-Box BlackBerry activation is required to use this product.
Supported BlackBerry Models *:
BlackBerry 8520
BlackBerry 9000
BlackBerry 9220
BlackBerry 9315
BlackBerry 9320
BlackBerry 9360
BlackBerry 9500
BlackBerry 9790
BlackBerry 9800
BlackBerry 9900
BlackBerry 8520 Curve
BlackBerry 8520 Curve
BlackBerry 8520 Gemini
BlackBerry 8520 Gemini
BlackBerry 9000 Bold
BlackBerry 9000 Bold
BlackBerry 9220 Curve
BlackBerry 9220 Curve
BlackBerry 9315 Curve
BlackBerry 9315 Curve
BlackBerry 9320 Curve
BlackBerry 9320 Curve
BlackBerry 9360 Curve
BlackBerry 9360 Curve
BlackBerry 9500 Storm
BlackBerry 9500 Storm
BlackBerry 9790 Bold
BlackBerry 9790 Bold
BlackBerry 9800 Torch
BlackBerry 9800 Torch
BlackBerry 9900 Bold
BlackBerry 9900 Bold
BlackBerry Bellagio
BlackBerry Onyx III
BlackBerry Storm
BlackBerry Thunder
N.B. Please provide us with your Micro-Box serial number while making the order.
* Developer provides support only for those phones which are on the list of supported. Not all servicing features can be applied to some supported models, due to difference of hardware / software versions. Complete list of supported models you can find on the official product page, or on the GSM forum.
Detailed information on the further use of the virtual product will be sent to your email, specified during registration, when we confirm your payment and process your order.
Specifications
| | |
| --- | --- |
| Activation is compatible with the following models of Boxes | |
| Activation is compatible with the following models of Cell phones | |
Customers, interested in this product, also viewed