PC-based Digital Storage Oscilloscope Hantek DSO-2150
No results found for your request.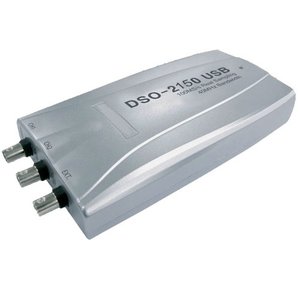 Add to comparison
Compare
Availability in stock:
HK
EU
CN
Note! This item is shipped within 7 working days.
Overview
Portable Hantek DSO-2150 PC-based oscilloscope is an ideal solution in radio electronics, telecommunications, computer engineering, car testing and other fields. Hantek DSO-2150 allows mathematical waveform processing and cursor measurements. The software enables you to use all functions, while the demo mode shows the main opportunities of the oscilloscope.
User Manual
Download Hantek DSO-2150 PC-based digital storage oscilloscope user manual
Features
60 MHz bandwidth
Two channels and one extra channel for PC-connection
8 bit vertical resolution
150 MS/s real-time sampling rate
Cursor measurements
23 measurement functions
Four mathematical operations
Waveform saving in TXT, BMP, JPG, Excel format
Labview \ VB \ VC \ Delphi \ C++Builder second design instance
No external power source required
Comparative Specifications
Model
DSO-2150 USB
DSO-2250 USB
DSO-5200A USB
Sample rate
150 MS/s (1 channel)
75 MS/s (2 channels)
250 MS/s (1 channel)
125 MS/s (2 channels)
250 MS/s (1 channel)
125 MS/s (2 channels)
equivalent to 50 GS/s
Number of channels
2
Bandwidth
60 MHz
100 MHz
200 MHz
Vertical resolution
8 bit
9 bit
Gain range
10 mV ~ 5 V/div with ×1 probe
100 mV ~ 50 V/div with ×10 probe
1 V ~ 500 V/div with ×100 probe
10 V ~ 5 KV/div with ×1000 probe
10 mV ~ 10 V/div with ×1 probe
100 mV ~ 100 V/div with ×10 probe
1 V ~ 1 KV/div with ×100 probe
10 V ~ 10 KV/div with ×1000 probe
Verically adjustable
yes
Coupling
AC, DC
AC, DC, GND
Input impedance
1 MΩ
DC accuracy
±3%
Input protection
diode clamping
Timebase range
4 ns/div ~ 1 h/div
2 ns/div ~ 1 h/div
realtime sampling: 4 ns - 400 ms/div
roll mode: 1 s/div - 1 h/div
equivalent sampling: 2 ns - 4 µs/div
real-time sampling: 10 µs - 400 ms/div
roll mode: 1 s/div - 1 h/div
Buffer size
10 KB ~ 64 KB samples
10 KB ~512 KB samples
10 KB ~1 MB samples
Trigger functions
Trigger mode
Auto, Normal and Single
Trigger type
edge trigger: rising edge, falling edge.
Trigger source
CH1, CH2, EXT
Trigger level adjustable
yes
Autoset
yes
Calculating functions
Authomatical calculations
Vp-p, Vmax, Vmin, Vmean, Vrms, Vamp, Vhigh, Vlow, positive overshoot, negative overshoot, cycle mean, cycle rms, period, frequency, positive pulse width, negative pulse width, rise time (10%~90%), fall time (10%~90%), positive duty cycle, negative duty cycle
Cursor
Time/frequency difference, voltage difference
Maths functions
Addition, Subtraction, Multiplication, Division
FFT analysis
Rectangular, Hanning, Hamming, Blackman Window
Interface
USB 2.0
Dimensions, mm
190 × 100 × 35
Package Contents
Digital oscilloscope Hantek DSO-2150 (1 pc.)
Probe (2 pcs.)
USB cord (1 pc.)
CD with software (1 pc.)
User manual (1 pc.)
Specifications
| | |
| --- | --- |
| Type | |
| Number of channels | |
| Bandwidth | |
| Sample Rate | |
| Storage Capacity | |