Polar Box License 1: LG 3G Secured + Samsung 3G + ZTE 3G
No results found for your request.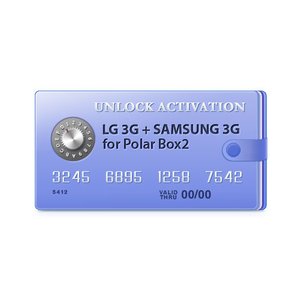 Add to comparison
Compare
Virtual product. Instructions provided by e-mail.
Purchase of this virtual product is generally processed within 2 hours after we received your payment in full. For details please read
FAQ
.
Overview
Polar Box 3 License 1 is meant for LG, Samsung and ZTE unlocking.
Polar Box 3 License 1 - Outstanding Features
LG3G direct unlock (via server)
Samsung read codes (via server)
Flashing is not required before unlock (all in few seconds)
Totally secure process
Unlimited unlock
Real time activation
Polar Box 3 License 1 - Supported Models *:
Polar Box 3 License 1 - Support for LG
LG CU Series : CU720 CU920 (American versions)
LG HB Series : HB620 HB620T
LG KC Series : KC910 KC910i KC910Q (added RAM protected versions too)
LG KB Series : KB620 KB770
LG KE Series : KE990
LG KF Series : KF690 KF700 KF700GO KF701
LG KU Series : KU250 KU305 KU315 KU380 KU385 KU730 KU970
LG KU Series : KU990 KU990i KU990iGO KU990GO KU990MF KU990R
LG TU Series : TU515
LG U Series : U250 U370 U370W U960 U970 U990
Polar Box 3 License 1 - Support for Samsung
Samsung Mxxxx Series (M7600 M7603 M8800 etc ...)
Samsung S3xxx Series (S3370 S3650 S3653 etc ...)
Samsung S5xxx Series (S5230 S5260 S5600 S5600v S5603 S5620 etc ...)
Samsung S7xxx Series (S7230 etc ...)
Samsung S8xxx Series (S8000 S8300 S8500 S8530 etc ...)
Samsung Fxxx Series (F480 F488 F490 F498 etc ...)
Samsung Android Series (i8xxx i9xxx i5700 i5800 S5570 S5670 S5830 etc ...)
Polar Box 3 License 1 - Support for ZTE
ZTE F100 F101 F102 F102i F600 F930 F950 F952
Please provide us your Polar Box 3 serial number while placing an order.
* Developer provides support only for those phones which are on the list of supported. Not all servicing features can be applied to some supported models, due to difference of hardware / software versions. Complete list of supported models you can find on the official product page, or on the GSM forum.
Specifications
| | |
| --- | --- |
| Activation is compatible with the following models of Boxes | |
| Activation is compatible with the following models of Cell phones | |