Polar Box License 3: Huawei 2G/3G, Sagem Secured, Vodafone and Modems
No results found for your request.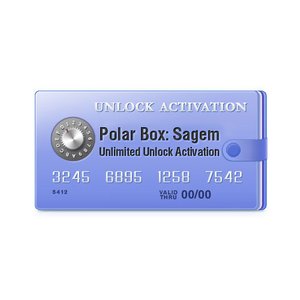 Add to comparison
Compare
Virtual product. Instructions provided by e-mail.
Purchase of this virtual product is generally processed within 2 hours after we received your payment in full. For details please read
FAQ
.
Overview
Polar Box 3 License 3 is meant for Huawei, Sagem and Vodafone mobile devices unlocking.
Polar Box 3 License 3 - Outstanding Features
Read Codes (NCK)
Flash, Repair, Change Language
Direct Unlock
Read FlashCode
Polar Box 3 License 3 - Supported Models *:
Sagem My100x My200c My202c My210x My212x My214x My215x My300c My300l My300x My301x My302x
Sagem My400x My400v My400l My401c My401ci My401x My401v My401l My411x My411xi My411v My411cv
Sagem My501ci My501C My501Ci My511x My511xi MyC5-3 MyE77 MyX5-2V MyX6-2
Sagem My-V56 My-V76 VS4 VS5
Sagem SG346i TCM303
Vodafone 411 526 527 533
Option GlobeSurfer ICON_7.2 ICON_7.2S
Option GT 3G+Emea 3GQuad Fusion
Huawei E122 E153 E155 E156 E156G E160 E160G E166 E169 E169G E170 E172 E176 E180 E196 E220 E226 ...
Huawei E230 E270 E271 E272 E367 E510 E612 E618 E620 E630 E630+ E660 E660A E800 E870 ...
Huawei E1550 E1612 E1750 E1752 E1752C E1756 E1756C ...
Huawei EG162 EG162G EG602 EG602G K2540 K3250 K3515 K3520 K3565 K3715 L1220
Novatel Ovation MD950D MD990D Merlin U530 U630 U730 U740
Sierra Aircard 875
Toshiba G450
Vodafone K2540 K3250 K3515 K3520 K3565 K3570z K3571z K3715 K3765 K3765z K3806
ZTE MF110 MF112 MF180 MF190 MF620 MF626 MF636 MF637 MF668
Huawei G20 G3501 G5010 G5500 G5726 G6005 G6210 G6600 G6603 G6608 G6609 G6620 G6622
Huawei G7002 G7010 G7050 G7105 G7206 G7210 G7300 G7510 G7600
Please provide your Polar Box 3 serial number while placing an order.
* Developer provides support only for those phones which are on the list of supported. Not all servicing features can be applied to some supported models, due to difference of hardware / software versions. Complete list of supported models you can find on the official product page, or on the GSM forum.
Specifications
| | |
| --- | --- |
| Activation is compatible with the following models of Boxes | |
| Activation is compatible with the following models of Cell phones | |