Preheater Smart Heating Platform (SHP)
No results found for your request.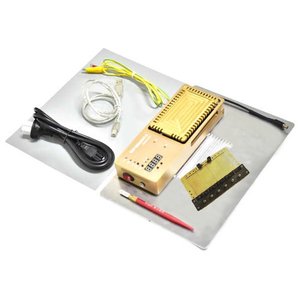 Add to comparison
Compare
Availability in stock:
HK
EU
CN
UA
Overview
Smart Heating Platform (SHP) is a high-quality professional toolkit for your electronic hardware repair needs. It offers many indispensable functions and facilitates work in a professional repair shop.
Features
All functions are finely controlled using custom-made software control system with real-time data display
General settings and operating ambient temperature ranges can be programmed using software in order to work with or without a computer
4 integrated temperature sensors (internal temperature, heater temperature, external temperature and K Type thermocouple)
Heating system has automatic temperature control that keeps temperature constant and accurate during work
Integrated 4 digits LED able to display all necessary data including state, temperature and voltage
Built-in thermocouple function that can accurately and efficiently measure the soldering iron and hot air temperature (measurement range: from 125 to 1200 °C, tolerance: ± 1 °C) in real time. This ensures rework tools are correctly calibrated and working at peak performance
Heating panel A made of high purity copper to create high heat flux
Heating panel B made of aluminium can work as glass separator etc. (compatible size - up to 13 inch)
Heating panel B can be used for baking, drying, aging etc. (e.g. water-flooded components of UMT mainboard)
Almost all current PCB integrated circuits can be soldered and de-soldered without the need of a soldering iron or a hot air gun. (e.g. Apple A7, A8, A9, A10 CPU baseband IC or hard disk IC etc.)
Can act as a pre-heater for your everyday needs to minimize the risk of component damage
Smart phones' and tablets' (iPads) glass lenses, touch screens, LCD displays can be separated in a few minutess
Specifying default factory settings with general working conditions for particular task types (e.g. glue removal, IC de-soldering, lens soldering, touch screen assembly settings etc.)
Integrated self-resetting overheat protection
LED warning alerts and sound alerts
Integrated voltage overload protection
Integrated short circuit detection
Integrated automatic shutdown function
All functions are user customizable
Lifetime free software upgrades and more
Add-on Software allowing to work with several electronic devices (activation required)
Working with all Apple products and Huawei Android Mobile Hisilicon based mobile devices (iMFC)
Technical Specifications
| | |
| --- | --- |
| Operating voltage | AC 220 V & DC 5 V (USB) |
| Output Power | 300 W |
| Temperature Range | 350 °C |
| Temperature Tolerance | ± 3 °C |
| SHP Box Size | 226x90x45 mm |
| Heating panel A Size | 58x12 mm |
| Heating panel B Size | 315x220 mm |
| Gross Weight | 3.7 kg |
Safety Precautions
Electric heater is more stable, more accurate and safer than soldering iron or air gun. However, heaters also get hot and should be handled with care.
Package Contents
SHP Box Complete Kit — 1 pc.